01:48
Scott Morrison promises federal assistance for earthquake response
Scott Morrison has just addressed travelling reporters in Washington about the earthquake.
He says the reports he's seen to date don't point to "serious injuries or things of that nature" and that is "very welcome news".
He said Emergency Management Australia is liaising with state authorities, and the acting prime minister Barnaby Joyce is keeping him informed.
The federal government is ready to "to provide whatever assistance is needed, whether from the ADF or others".
He said anyone in distress in Melbourne or beyond will be "well looked after".
Morrison also said he's been in contact with the Victorian premier, Daniel Andrews.
01:40
Earthquake felt like a 'loud crash' in Mansfield, locals say
Mansfield Rudolf Steiner School and Kindergarten administrator Maisie Pilli was standing with her co-worker when she heard a "loud crash".
"To me it sounded like a truck was going to crash into the building, and it wasn't until me and my co-worker looked at each other and thought it was an earthquake that we ran to a doorway and stood there together," she said.
Pilli felt the tremor for about 30 to 45 seconds, and was relieved the kindergarteners were off on school holidays.
"Everything was fairly sturdy, we didn't see any damage, but we had a look around afterwards and nothing went too far off the shelves, the only thing we saw outside was a few water-tanks shaking," she said.
Pilli said all Mansfield community noticeboards were "going off the charts", with most people having had a similar experience.
"One of my friends with horses says all the horses went crazy and weren't enjoying it," she laughed.
"My poor dog's at home and I know she'll be thinking 'what's going on'?
"We really weren't prepared for it being in our location, I think we'd jump under desks instead of a doorway next time."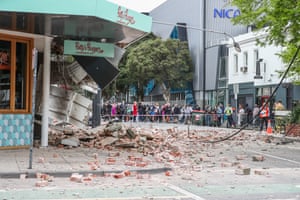 Updated