Good morning, and welcome to our rolling coverage of the world economy, the financial markets, the eurozone and business.
UK company payrolls have returned to their pre-pandemic levels, and vacancies are at a record, as the long recovery from the Covid-19 crisis continues.
The latest unemployment report, just released, shows that "the labour market continuing to recover", according to the Office for National Statistics.
The number of payroll employees rose by 241,000 in August to 29.1 million, returning to levels seen in February 2020 before the first lockdown.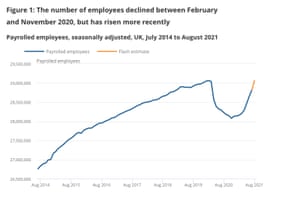 All regions except London, Scotland and South East are now above pre-pandemic levels, the ONS reports.
And despite this rise in payrolls, vacancies are at a record levels as firms across the economy struggle to fill positions, particularly in the hospitality sector, and transport and storage.
The number of job vacancies in June to August 2021 was 1,034,000 — having broken over 1 million for the first time since record began this summer — and is now 249,000 above its pre-pandemic levels of January to March 2020.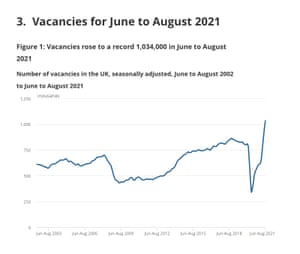 The ONS explains:



Vacancies grew on the quarter in June to August 2021 by 269,300 (35.2%), with all industry sectors increasing their number of vacancies and the majority reaching record levels; the largest increase was seen in accommodation and food service activities, which rose by 57,600 (75.4%).
These data comes just a couple of weeks before the UK's furlough jobs protection scheme is due to end – with unions and industry lobby groups warning of a spike in redundancies as employers, many of them struggling to cope with the impact of the Delta variant, prepare to take back staff.
The ONS also reports that the unemployment rate was 4.6% in the three months to July, 0.3 percentage points lower than the previous quarter.
The employment rate has risen by 0.5 percentage points over the last quarter, to 75.2%.
More details and reaction to follow….
Also coming up today
Investors are bracing for the latest US inflation report, which will show whether consumer prices are still rising at the fastest pace in 13 years.
This afternoon's US CPI numbers could make for uncomfortable reading for US policymakers next week, especially if it follows the upward trend of US factory gate prices for August, says Michael Hewson of CMC Markets.



In July there was some relief that US CPI remained steady at 5.4%, raising the possibility that we may have seen a peak. More encouragingly, core CPI slipped back from 4.5% in June to 4.3% in July, however even if central bankers seem sanguine about rising prices, US consumers definitely aren't if the New York Fed's latest survey of inflation expectations are anything to go by. Consumer expectations for inflation over the next three years are at a heady 4%, while for one year they are 5.2%.

The biggest worry aside from the surges we are seeing in energy prices, which is worrying enough, has been the continued rise in PPI last week to 8.3%, from 7.8%, which suggests that we may have only seen a pause in the upward trajectory in prices.
We also get the latest assessment of the oil market from the IEA.
And chancellor Rishi Sunak is hosting some of the UK's biggest tech firms at an inaugural conference, called Treasury Connect, in East London.
European stock markets are expected to open higher:
The agenda
7am BST: UK unemployment report
9am BST: IEA monthly oil market report
1.30pm BST: US consumer price inflation for August