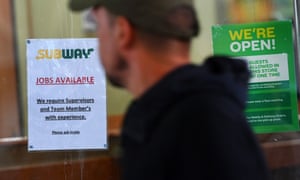 Good morning, and welcome to our rolling coverage of the world economy, the financial markets, the eurozone and business.
The UK supply chain shortage continues to grip the economy, with consumer-facing companies grow more worried about the economic outlook as they struggle to find workers… and car production slumps.
Firms such as bars, restaurants and travel companies turned pessimistic about the economic outlook in August, according to a new survey from the CBI this morning. It blames a shortage of workers to fill jobs, adding to rising costs and operational difficulties following the lockdown.
Optimism about the general business situation among consumer service firms tumbled to minus 17% this month, down from a positive reading of 47% in May.
Consumer services firms also reported record concerns about labour shortages — and after the strongest growth since February 2018, expectations for the next quarter are "rather bleak", the survey says.
These consumer-focused firms also expect profits to decline next quarter, and – despite these labour shortages – many are anticipating cutting headcount next quarter.
The CBI also identifies a split within the services economy. Business and professional services firms reporting strong volumes growth, and expect this to continue for the three months.
Charlotte Dendy, CBI Principal Economist, says:



"It's clear that the service sector has performed well over the three months to August, revealing strong volumes and profits growth in our latest survey as the economy reopened over the summer. However, the outlook between sub-sectors is set to diverge over the quarter ahead, with a deterioration in prospects expected in consumer services.

"Firms in sectors such as hotels, restaurants and travel, do not expect this strength to persist into the next quarter, reflecting the pressure that consumer services firms continue to face.
This tight labour market should put more power in workers' hands, though. As Labour MP Claudia Webbe pointed out on Twitter – firms struggling to fill crucial positions need to pay appropriately:
Manufacturers are also struggling – with British car output falling to its lowest July level since 1956. The ongoing global shortage of semi-conductor chips hit auto firms, with workers also having to self-isolate due to COVID-19..
SMMT chief executive Mike Hawes warns that component shortages will continue:



"While the impact of the 'pingdemic' will lessen as self-isolation rules change, the worldwide shortage of semi-conductors shows little sign of abating,"
UK carmakers made 53,400 vehicles in July, a 37.6% drop when compared with the same month in 2020. More here:
As we covered yesterday, business leaders are urging the government to relax post-Brexit migration rules to allow EU lorry drivers to plug the gap, or risk Christmas disruption.
But ministers are standing firm, arguing that firms need to train domestic drivers.
A Home Office spokesperson said:



"The British people repeatedly voted to end free movement and take back control of our immigration system. Employers should invest in our domestic workforce instead of relying on labour from abroad."
The Office for National Statistics publishes its latest realtime indicators on the UK economy today, which will show how businesses are faring.
We also get an updated estimate on US economic growth, and the latest jobless claims figures, which will help set the scene ahead of the Jackson Hole economic symposium this week.
The agenda
9.30am BST: ONS's latest Business insights and impact on the UK economy report
1.30pm BST: US Q2 GDP report (second estimate)
1.30pm BST: US weekly jobless figures