Good morning, and welcome to our rolling coverage of the world economy, the financial markets, the eurozone and business.
UK house prices continued to climb last month, despite the gradual phasing out of the government's stamp duty holiday, as strong demand, low supply and cheap borrowing costs continues to support the market.
The latest figures from Nationwide, just released, show that UK house prices growth climbed by 11.0% in the last 12 months, up from 10.5% in July.
UK house prices are now around 13% higher than when the pandemic began, as lockdowns have driven demand for larger homes better suited for home-working.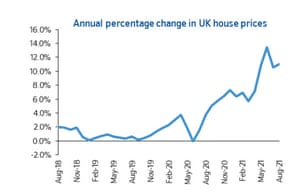 In August alone, prices jumped by 2.1% — the second largest monthly gain in 15 years, defying expectations of a slowdown now that the tax break on house purchases is being phased out.
It lifts the average house price to £248,857.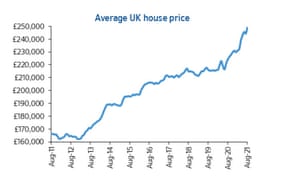 At the start of July, the stamp duty holiday on purchases in England and Northern Ireland halved to only cover the first £250,000, before winding up at the end of September. It has already ended in Wales and Scotland.
Robert Gardner, Nationwide's Chief Economist, said August's price rise is a surprise — and may be due to homeowners trying to take advantage of the smaller tax saving still on offer. A lack of supply is another factor.



"The bounce back in August is surprising because it seemed more likely that the tapering of stamp duty relief in England at the end of June would take some of the heat out of the market. Moreover, the monthly price increase was substantial – at 2.1%, it was the second largest monthly gain in 15 years (after the 2.3% monthly rise recorded in April this year).

The strength may reflect strong demand from those buying a property priced between £125,000 and £250,000 who are looking to take advantage of the stamp duty relief in place until the end of September, though the maximum savings are substantially lower (£2,500 compared to a maximum saving of £15,000 on a property valued at £500,000 before the stamp duty relief in England tapered).

Lack of supply is also likely to be a key factor behind August's price increase, with estate agents reporting low numbers of properties on their books.
Also coming up today
UK shop prices rose last month, according to the latest data from the British Retail Consortium, in a sign that driver shortages and the costs of Brexit-induced red tape are beginning to hit household budgets.
The latest figures from the BRC and research group NielsenIQ reveal a 0.4% month-on-month rise in August. This was driven by a 0.6% rise in non-food prices, including a sharp increase in the cost of electrical goods caused by shortages of micro-chips and shipping problems.
While British shop prices remain below those in 2020, down 0.8% in August compared with the same month a year earlier, that marked a slowdown in deflation from the 1.2% year-on-year fall recorded in July.
Helen Dickinson, the chief executive of the BRC, which represents hundreds of retail businesses, warned:



"There are some modest indications that rising costs are starting to filter through into product prices."
The OPEC group, and allies including Russia, are meeting virtually today to discuss their oil output plans. They're expected to ratify their plan to pump an extra 400,000 barrels of crude a day in October, in the face of pressures from the White House to boost production.
Shell has announced its aim to install 50,000 on-street electric vehicle (EV) charging points in the UK over the next four years, in an attempt to provide a third of the network needed to hit national climate change targets.
The latest PMI manufacturing reports will show how factories in the UK, eurozone and the US fared last month. Data released already today shows that Asia's factory activity lost momentum in August as a resurgence in coronavirus cases disrupted supply chains across the region.
European stock markets are on track to open a little higher on the first day of September, having posted their seventh straight month of gains in August.
And the latest reshuffle of the UK's stock market indices will be announced after the market close. Takeover targets Morrisons and Meggitt are likely to be promoted to the FTSE 100, following the surge in their share prices, while Just Eat Takeaway.com is being ejected after FTSE Russell ruled that the food-on-wheels firm is Dutch, not British.
The agenda
9am BST: Eurozone manufacturing PMI for August
9.30am BST: UK manufacturing PMI for August
10am BST: Eurozone unemployment report for July
1pm BST: Brazil's Q2 GDP report
1.15pm BST: ADP report on US private sector payrolls
3pm BST: US manufacturing PMI for August