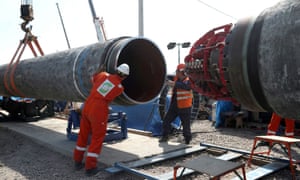 Good morning, and welcome to our rolling coverage of the world economy, the financial markets, the UK's supply chain crisis and business.
The surge in energy prices gripping Europe has eased a little, as Russia tries to use its leverage as an oil and gas superpower to assist — and get approval for its controversial Nord Stream 2 undersea natural gas pipeline.
UK gas prices fell back from record highs after president Vladimir Putin suggested that state-backed Gazprom could increase supplies to help Europe avoid a full-blown energy crisis.
At a televised meeting on Wednesday, Putin hinted:



"Let's think through the potential increase of supply on the market, only we need to do it carefully."
Moscow appears to be using the crisis to push for Nord Stream 2 to get the green light.
Russian Deputy Prime Minister Alexander Novak said that approval for Nord Stream 2, which connects Russia to Germany under the Baltic Sea, could cool soaring European gas prices.
Novak told a meeting of government officials and heads of energy companies.



"I think there are two factors, which could somewhat cool off the current situation. First of all, of course, this is, definitely, completion of certification and the fastest clearance for gas supplies via the completed Nord Stream 2,"
These comments dragged gas prices back from record levels last night, in wild trading.
UK gas contracts for November delivery surged almost 40% early on Wednesday over 400p per therm, but closed 9% lower at 271p.
But Nord Stream 2 is controversial – it circumvents Ukraine, which relies on existing pipelines for income, and still needs to be certified by Germany's regulator.
Back in March, US secretary of state, Antony Blinken, warned it was "a Russian geopolitical project intended to divide Europe and weaken European energy security".
Nord Stream 2 needs approval from the energy regulator in Berlin to start operating commercially. They need to be satisfied that it meets EU 'unbundling' rules separating of gas transport from production and sales — a certification process that could take months.
And some EU MEPs are worried that Nord Stream 2 may decide to start flows without the necessary approvals. Senior lawmakers on Tuesday called on the European Commission to exercise all its powers to ensure compliance with EU law, Bloomberg reports.
European stock markets are on track to recover yesterday's losses, with the FTSE 100 called up over 1%.
Investors are relieved that Republicans and Democrats in Congress said they would consider a stop-gap measure extending the country's borrowing limit until December.
It would be a temporary solution to America's debt ceiling crisis, which is threatening an unprecedented default.
The agenda
9am BST: Italian retail sales for August
9.30am BST: Energy UK's Annual Conference 2021
9.30am BST: ONS's Business insights and impact on the UK economy survey
12.30pm BST: ECB Monetary Policy Meeting Accounts
12.30pm BST: Challenger survey of US job cuts in September
1.30pm BST: US weekly jobless report