Thousands of residents have been forced to evacuate the famous tourist town of South Lake Tahoe as the raging Caldor fire draws closer on Monday, prompting chaotic scenes and clogged roads as residents rushed to leave the area.
Ash rained down on long lines of cars gridlocked on the roads exiting the popular vacation city, which is home to more than 20,000. Cars inched along through the smoky haze, some piled high with belongings and others towing trailers with bikes and other recreation equipment. Occasionally, sirens rang out and red lights flashed into the distance. Anxiety mounted with each gusty breeze, strong enough to shake the trees, reminding evacuees that the inferno was heading their way.
"I haven't moved in half an hour," said South Lake Tahoe resident Dick Kline, leaning out of the window of his truck. Behind him he towed his grandfather's classic car in mint condition, the sole major possession he wanted to ensure would get out safely. "I am sitting here watching all this ash come down on it but at least I am getting it out of here," he said.
Up until that morning, Kline said, he didn't think he'd have to leave. He's been in the area since 1977 and has only had to evacuate once before. That time, he escaped with only the clothes he was wearing – and of course, his grandfather's car.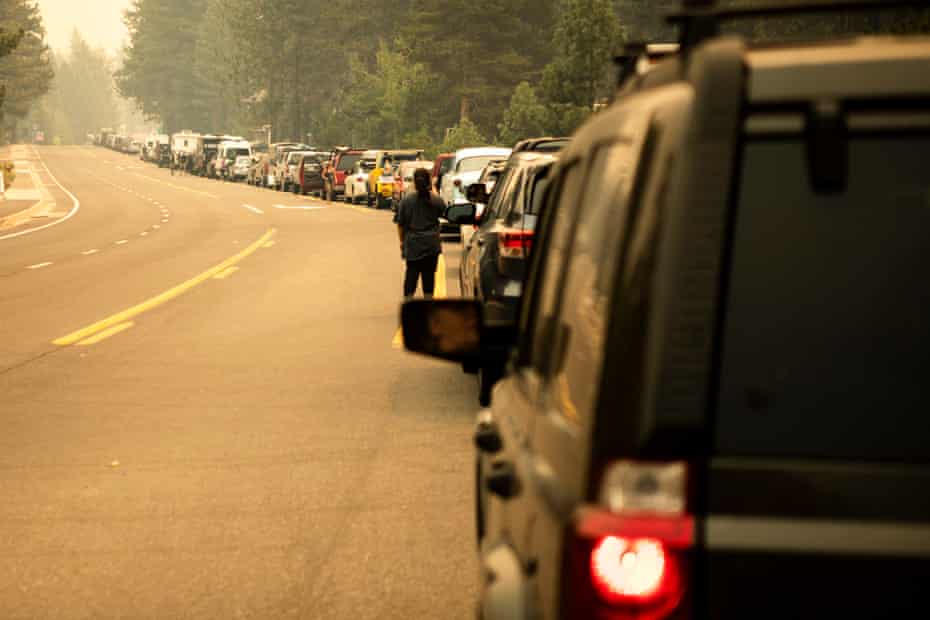 Farther down the line, Robert Adamson waited in his delivery truck. He had one more delivery to make, distributing linens to local resorts, but many of them were already closing.
"Everyone was gone," he said of his last stop in the Tahoe Keys. "My boss called me and said to make this one delivery and get the hell out of there," he added. "It will probably take most of the day to get back through town."
By mid-afternoon many streets were silent and empty as evacuees cleared out, save for a few folks still feverishly loading cars, trucks and RVs with their things.
But for some, that just wasn't an option.
Reel Duncan, a resident of more than 15 years, doesn't have a vehicle. "It's messed up, the evacuation for people who don't have cars" she said, adding that she'd heard there were going to be shuttles for people but was told they'd stopped running earlier in the day.
"It is me and my fiancé and my cat," Duncan said. "We are all packed up and ready to go, we just have to figure out a way to get out. And we have nowhere to go." Her neighbor, longtime resident Ron Hartman, was also stuck without a car.
"We are thinking about just riding our bikes down the highway with a sign on the back," Duncan said. "Like, can anyone give us a ride?"
The fresh evacuation orders on Monday came a day after communities several miles south of the lake had abruptly been ordered to leave their homes. The fire destroyed multiple homes Sunday along Highway 50, one of the main routes to the south end of the lake. The fire also roared through the Sierra-at-Tahoe ski resort, destroying some buildings but leaving the main buildings at the base intact.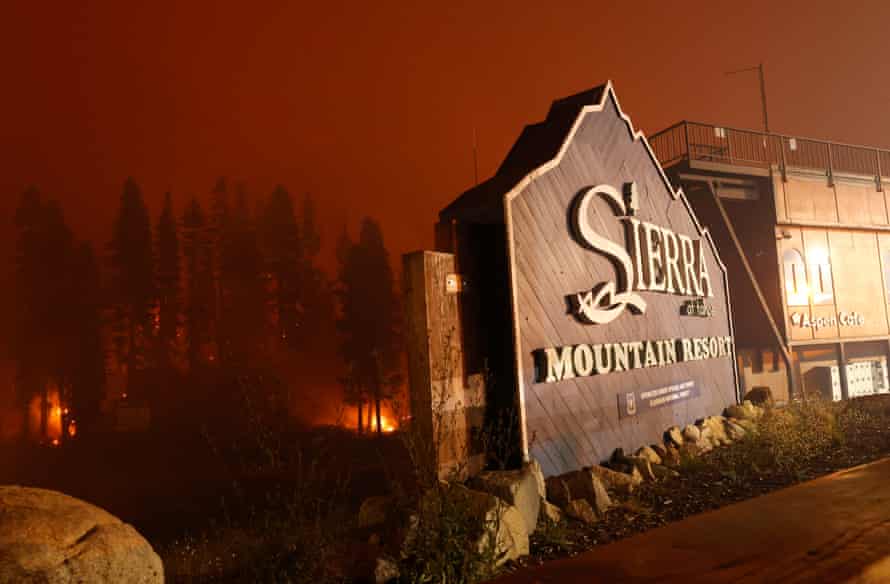 "Today's been a rough day and there's no bones about it," Jeff Marsoleis, forest supervisor for El Dorado national forest, said on Sunday evening.
A few days ago, he said, he thought crews could halt the Caldor fire's eastern progress, but "today it let loose".
Crews are preparing for challenging days ahead, with gusty winds and critical fire weather conditions in the forecast for Monday and Tuesday.
More than 15,000 firefighters are battling 15 large fires across California. Flames have destroyed about 2,000 structures, burned 1.7m acres and forced thousands to evacuate while blanketing large swaths of the west in unhealthy smoke.
The California fires are among nearly 90 large blazes in the US, primarily in the west, and are burning trees and brush desiccated by drought. The climate crisis has made the region warmer and drier in the past 30 years and will continue to make the weather more extreme and wildfires more destructive, according to scientists.
Losing ground
Flames from the two-week-old fire churned through mountains just a few miles south-west of the Tahoe Basin, where thick smoke sent tourists packing. South Lake Tahoe residents have been asked to conserve water for firefighting efforts by turning off irrigation systems, shortening showers and delaying clothes washing.
"To put it in perspective, we've been seeing about a half-mile of movement on the fire's perimeter each day for the last couple of weeks and today this has already moved at 2.5 miles on us, with no sign that it's starting to slow down," said Cal Fire division chief Erich Schwab.
Parts of the northern California terrain are so rugged that crews had to carry fire hoses by hand from Highway 50 as they sought to douse spot fires caused by erratic winds. The topography and fuels in the region make the fire particularly complex, said Tim Ernst, a Cal Fire operations section chief.
"This is very aged, very dry timber which holds fire and carries fire extremely rapidly," Ernst said. "The topography – even making access to some of our fire areas is extremely hazardous."
Containment dropped from 19% to 14% overnight as the fire grew by more than 25,000 acres and spread east by about 8.5 miles.
Triple-digit temperatures were possible and the extreme heat was expected to last several days. A red flag warning for critical fire conditions was issued for Monday and Tuesday across the Northern Sierra.
The Caldor fire, which broke out on 14 August, has burned 277 square miles (717 sq km), an area larger than Chicago. More than 650 structures had been destroyed and at least 20,000 more were under threat. Three first responders have been injured in the blaze, along with two civilians.
The fire has proved so difficult to fight that fire managers pushed back the projected date for full containment from early this week to 8 September. Even that estimate was tenuous.
Other California fires
In southern California, a section of Interstate 15 was closed on Sunday afternoon after winds pushed a new blaze, the Railroad fire, across lanes in the Cajon Pass north-east of Los Angeles.
Further south, evacuation orders and warnings were in place for remote communities after a wildfire spread quickly through the Cleveland national forest on Saturday.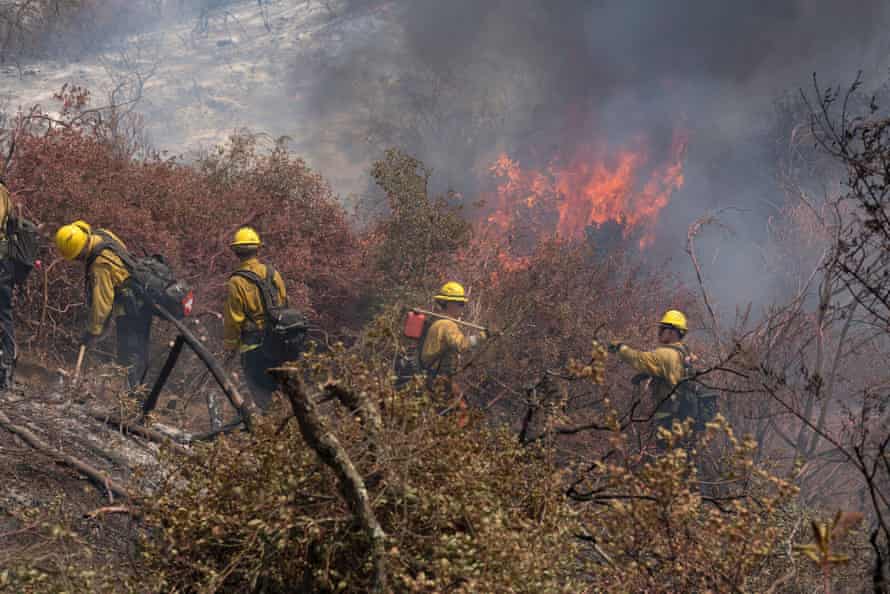 A firefighter received minor injuries and two structures were destroyed in the 2.3-sq mile Chaparral fire burning along the border of San Diego and Riverside counties, according to the California department of forestry and fire protection. It was 10% contained on Sunday.
The Dixie fire, the second-largest in state history at 1,205 sq miles, was 48% contained in the Sierra-Cascades region about 65 miles north of the Caldor fire. Nearly 700 homes were among almost 1,300 buildings destroyed since early July.
Containment increased to 26% on the 12-day-old French fire, which covered almost 40 sq miles in the southern Sierra Nevada. Crews protected forest homes on the west side of Lake Isabella, a popular recreation area north-east of Bakersfield.
The Department of Defense is sending 200 soldiers from Washington state and equipment including eight C-130 aircraft to help firefighters in northern California. The C-130s have been converted to air tankers that can dump thousands of gallons of water on the flames.