Good morning, and welcome to our rolling coverage of the world economy, the financial markets, the UK's supply chain crisis, and business.
The energy crunch is intensifying, driving up costs for households and businesses, and sending inflation fears rippling through the markets.
US crude has hit its highest level since 2014 this morning, extending its recent rally, amid tight supplies, rising demand, and the rocketing gas price.
A barrel of US crude touched $79.40, a new seven-year high, while Brent crude has hit a three-year high of $83 per barrel.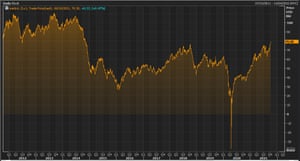 The recent surge in the oil price is making investors jittery, especially after the Opec+ group is resisting pressure to ramp up its production.
Naeem Aslam of Think Markets explains:



Oil prices in the United States have climbed to their highest level since 2014, rising for the last 5 sessions. Crude oil has gained support from uncertainty regarding energy supplies as supplies of coal, natural gas, and crude appear to be tighter.

Monday's OPEC meeting only exacerbated the issue as the group conveyed no significant rise in oil production and decided to go on with its already existing timeline to avoid any major repercussions caused by another wave of coronavirus.

However, the cartel may be pushed into a corner if demand continues to rise, leaving no option but to ramp up production.
The jump in the oil price will drive up petrol prices, with the RAC warning that they could hit all-time highs before Christmas — bringing "misery" for motorists still reeling from the fuel shortage crisis.
Amid signs that the number of petrol forecourts running dry was easing, the drivers' organisation warned that anxiety about whether motorists could fill up their tanks was likely to be replaced by concern about how much it would cost.
The RAC's fuel spokesperson, Simon Williams, said that oil demand was outpacing supply as economies begin to pick up pace amid eased Covid restrictions, with the increase exacerbated by Opec opting not to increase oil flows significantly this week.
He said:



"[The trend] looks likely to spell further misery for drivers at the pumps as we head towards Christmas … If this were to happen we could see the average price of unleaded hit a new record of around 143p per litre.

Diesel would shoot up to 145p, which is only 3p off the record high of 147.93 in April 2021."
The frenzy in the gas markets, where prices are surging by the day, is also pushing up crude, as countries may be forced to burn more oil instead.
Kim Kwangrae, senior commodities analyst at Samsung Futures Inc, explains (via Bloomberg)



"The tight supply outlook and the extra oil demand coming from countries in Europe and Asia in search of alternative fuels due to the global energy crunch have pumped up prices," said

"Oil at $80 will become a psychological burden for some investors, potentially driving a sell-off if the American government data shows crude inventories have climbed as per expectations."
These worries are hitting equities too; European stock markets are expected to open around 0.7% lower.
Investors are await the latest healthcheck on UK and eurozone builders, and a survey of private sector job creation in the US ahead of Friday's non-farm payroll report.
The agenda
8.30am BST: Eurozone construction PMI for September
9.30am BST: UK construction PMI for September
Noon BST: US weekly mortgage applications
1.15pm BST: US ADP survey of private sector payrolls in September
3.30pm BST: EIA weekly oil inventory figures