Key events
8 min: Bardhi attempts to release Miovski down the left with a spectacular volleyed pass. Just a bit too much weight on it, and Pickford is able to come to the edge of his box to claim.
6 min: Lewis now doing his defensive duties, ushering Dimoski off the pitch just as it looked like the North Macedonia winger was going to burst clear. A busy and impressive start for the new boy.
4 min: … the ball breaks back to Lewis, who hoicks over the bar spectacularly. What an introduction to international football that would have been! The young Manchester City star not inclined to go hiding.
3 min: Grealish and Rice combine cutely down the inside-left channel, the former crossing low for Watkins at the near post. Watkins can't quite prod home from close range. The ball's deflected out for a corner, from which …
1 min: Lewis's debut begins, and he's immediately barged off the ball by Alimi, who sends Miovski skittering free down the right. But it was an overly aggressive shove, and the whistle goes. Alimi wags his finger in disapproval. Welcome to international football, young man.
England get the ball rolling. "How about neilWEBb," offers Tom Marlow, because somebody was going to get there sooner or later.
The teams are out! North Macedonia in red with yellow flashes on the shirt, England white tops with blue breeks. We'll be off in a couple of minutes, once the anthems are done. Meanwhile Antony Train thinks Alan Pugh (7.33pm) has given the FA way too much credit regarding their passwords: "Obviously 123456, keep going depending how many characters are needed. If it needs letters and all that stuff, try J0rd@nknowssokeepp1ckingh1m."
Gareth Southgate talks to Channel 4. "Clearly Ollie's game is different to Harry's, so it's for us to adapt to his way of playing … we're not expecting him to come and build as Harry might … he's got great strengths running in behind teams and pressing from the front … we want to play to his qualities, not the other way round … I want Rico Lewis to enjoy his game … it's a brilliant moment for him … he's looked really comfortable with the group … we want to get him into advanced areas when he has possession with the ball … the criticism [after the Malta game] was fair, we didn't play as well as we would have liked and didn't use the ball well enough … we were also a little disjointed without the ball so we've been looking at both aspects … I hope we use the ball better tonight than we did but also be decisive when we get chances … if your aim is to be the best in the world then every day that guides your training and the way you work in every aspect … we're still short of where we'd like to be … we've got to look forward and make the most of games like tonight."
Urgent IT assistance required. "I was passing through Doha a few days ago en route to Yerevan for the Welsh game," begins Alun Pugh. "I found myself inadvertently staying in the hotel that served as the base for the England team at the Qatar World Cup. They had many framed jerseys on display but what really interested me was that the FA seemed to have left a few routers in situ. My phone picked up signals for '3 Lions' and so on. I tried logging in with obvious passwords such as 'TofiqBahramov' and 'penalties' etc all to no avail. Can readers offer other suggestions?"
Did you try aLANshearer? I've got nothing else. Yes, best farm this one out to the readers.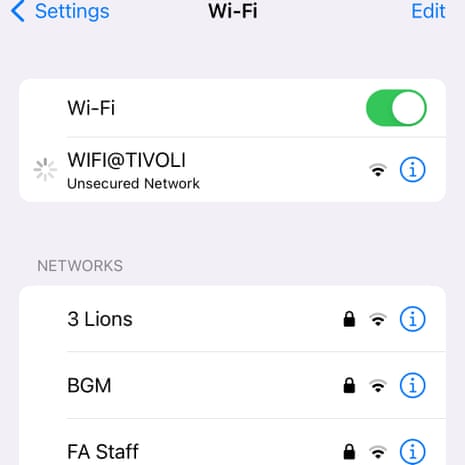 A reminder that while this match is not much more than glorified fixture administration, there's some really meaningful Group C action going down in Leverkusen tonight. Italy need to avoid defeat against Ukraine to make it through to the finals, else it's the play-offs for the reigning European champions, and as their absences from the last two World Cups illustrate, they're not too clever at those. Rob Smyth, fresh from OBOing Uruguay v Brazil in the cricket – a joke for all of you cross-disciplinary World-Cup-final heads out there – is all over that one.
Harry Kane drops to the bench and Rico Lewis debuts as Gareth Southgate makes six changes to the England starting XI from the 2-0 win over Malta. Ollie Watkins replaces Kane up front, while Kyle Walker comes in to stand in as captain. Jack Grealish, Declan Rice and Bukayo Saka also start.
North Macedonia: Dimitrievski, Manev, Serafimov, Musliu, Dimoski, Bardhi, Atanasov, Alimi, Alioski, Miovski, Elmas.
Subs: Kostadinov, Askovski, Iljazovski, Elezi, Churlinov, Mitrovski, Milan Ristovski, Todoroski, Aleksovski, Daci, Ademi, Siskovski.
England: Pickford, Walker, Guehi, Maguire, Lewis, Alexander-Arnold, Rice, Saka, Foden, Grealish, Watkins.
Subs: Gallagher, Kane, Ramsdale, Phillips, Tomori, Rashford, Johnstone, Konsa, Palmer, Henderson.
Referee: Filip Glova (Slovakia).
England have already qualified for Euro 2024 as winners of Group C, and if they manage a draw tonight against a team they beat 7-0 five months ago, they'll be guaranteed to be among the top seeds for the tournament draw. The jeopardy isn't particularly high, then, so if you still need a reason to tune in, consider that tonight's match surely can't be worse than this …
Kick off is at 7.45pm GMT. It's on.