Never in your life, you would have thought to come across a country which spends billions in its defense budget, surrenders its territory to another country without a fight.
Twenty Indian soldiers were killed by the Chinese military, the Peoples Liberation Army (PLA) when it seized 70 to 80km of the territory that was once under the Indian military's possession till the 3rd of June 2020. The fight took an ugly turn when Indian soldiers resisted the Chinese incursion on the ground on the 15th of June at the frontiers of Ladakh.
According to reports, soldiers from both of the countries fought with sticks and stones which resulted in the killing of the twenty Indian soldiers and the arrest of the other ten Indian soldiers including four officers. This development fumed entire India with rage and calls for boycotting Chinese products started to trend on Twitter. Some Indians even came out of their homes and started smashing down the made in China TV sets in order to express their anger.
Indian ministers and government officials started their usual chest-thumping rhetoric that they would teach China a lesson, pretty much sounds like how they reacted towards Pakistan, a six times smaller nation and the opposition parties in India too were demanding swift revenge from the Chinese.
While Indian media on the other hand started doing their thing which is what they are famous for on global state aka peddling fake-news to uplift the morale of the Indian people.
At the start when the news of the killing of twenty Indian soldiers appeared, the Indian media quickly gave a list of killing 43 Chinese soldiers. Not a single neutral source confirms the Indian claim, the worst part is, not even the Indian military confirms the number of casualties on the Chinese side.
As expected, leaks now placing Indian casualties at 20 soldiers. And quickly govt's spin machine is giving out a Chinese casualty count of 43.

The cynical political calculation clearly is: If we can claim we killed 43 Chinese, killing of 20 Indian soldiers will matter far less

— Ajai Shukla (@ajaishukla) June 16, 2020
So Indian media cooked up the story of killing 43 Chinese soldiers just so the actual killing of 20 Indian soldiers will matter less.
The hilarious part of this Indian-lie was that Indian media was quoting an unverified Twitter handle from China as a source while the same Twitter handle was quoting Indian Media as a source. A classic case of self-mockery.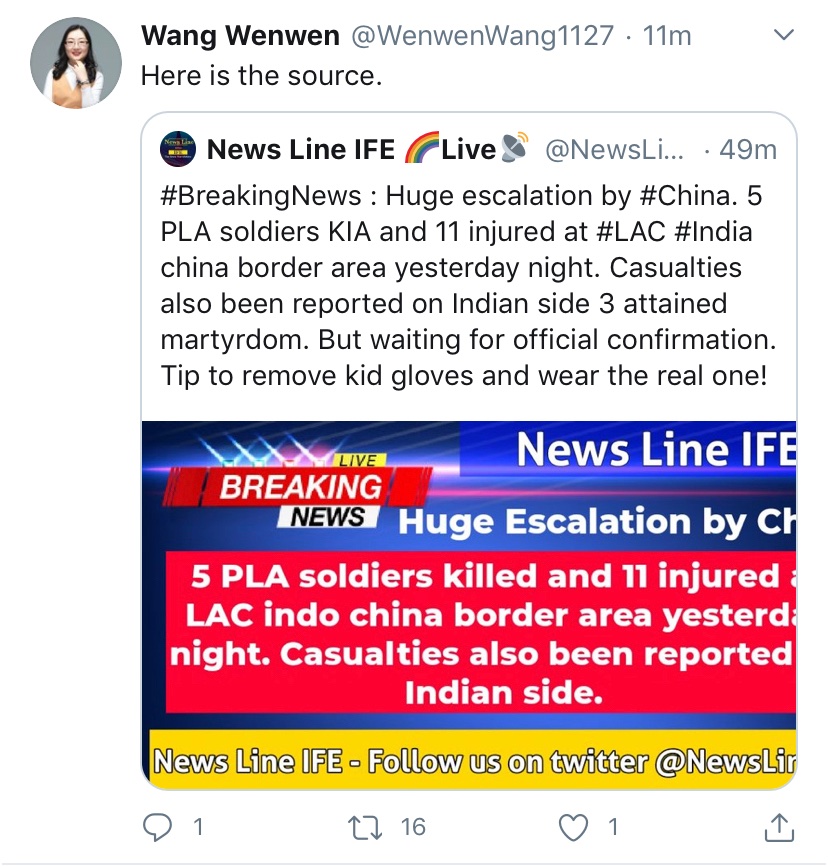 Indian Media was quoting this Twitter handle named as 'Wang Wenwen' even during their live-broadcasts as a source to claim that India killed 43 Chinese soldiers during the fight. While Wang Wenwen was only quoting an 'Indian Twitter handle' as a source to make the same claim. See how funny is that?
The unverified Twitter handle was quoting 'News Line LFE' another Twitter handle which was merely three months old and it is not even a serious or credible news outlet, just a random Twitter handle.
@NewsLineIFE. Less than 3 months old, a name I never heard of until minutes ago, and that makes unsubstantiated claims like this: pic.twitter.com/P9He9S8GOs

— Amit Schandillia (@Schandillia) June 16, 2020
The fake news peddlers of the Indian media got embarrassed by the same Wang Wenwen Twitter account who specified that she quoted some Indian-Twitter handle as the source.
I cited an Indian source of @NewsLineIFE about a physical clash at LAC China-India border yesterday. No confirmation from the official Chinese source regarding casualties yet. It is unprofessional for Indian media to say this is official news from the Chinese side. @IndiaToday pic.twitter.com/OIGBKq61Gn

— Wang Wenwen (@WenwenWang1127) June 16, 2020
Indian media came up with a list of names of the so-called 'Chinese troops Killed In Action' which were basically another fake-news attempt that got exposed.
This is how @TimesNow anchors @navikakumar and @RShivshankar read out names of 30 Chinese Soldiers after they received a fake WhatsApp forward. 🙄 pic.twitter.com/j9wNppj0X3

— Mohammed Zubair (@zoo_bear) June 17, 2020
The viral list of "56 Chinese soldiers dead" that Indians were sharing turns out to be names of former PLA Generals from the 1990s, many of whom have already passed away.

Indians took their names right out of a Wikipedia page. #Ladakh #GalwanValleyFaceoff https://t.co/9kSHtRG3Rb

— Asfandyar Bhittani (@BhittaniKhannnn) June 20, 2020
Indian media's circus of fake-news took an ugly turn when they displayed a fake story of Indian army recapturing the lost territories from China.
The India-China border dispute has led to a rise in misinformation. A dubious website used an image from 2020 Republic Day to falsely claim that the Indian army 'captured' the Chinese side of the Pangong Lake. Read #AltNewsFactCheck | @ArchitMeta https://t.co/ZoQ4sXsYFh

— Mohammed Zubair (@zoo_bear) June 19, 2020
But the embarrassing Indian media continued its war-mongering instead of apologizing for deliberately lying about the casualty figure on the Chinese side even after being caught up.
Guess what happened when Indian media pulled up the ladder of escalation with China? The Indian Prime Minister Modi called for an all-party conference to discuss the strategy in regards to the development in Ladakh and to the surprise of Indians, their Prime Minister openly stated that not a single territory of India was seized by China.
That statement from the Indian Prime Minister is not just contributing to demoralizing the Indian military and the Indian public but also showing the level of commitment and seriousness of the man who pretends to be a strong leader of his country.
His statement got angry Indians asking if China did not intrude on the Indian territory then who killed those twenty Indian soldiers?
The Opposition leader also reaffirms the claim that the Indian Prime Minister has surrendered the territory.
What about the statements of other government officials which confirmed China's role in seizing Indian territory. Here watch the following video and see how the Indian Prime Minister has been exposed as a compulsive liar.
Nothing happened at LAC, then why 24 army were martyred?
Why 54+ Martyrs are critical??
Why families of 24 army's has desolated??
56 Inch was so scared that he didn't dared even to mention name of China?#SabChangaSi#ModiSurrendersToChina#ModiSurrendersGalwanValley pic.twitter.com/ocuNPlhA6W

— Faheem shahzad (@Faheems26160701) June 20, 2020
It clearly shows that the Indian Prime Minister is officially surrendering the Indian territory to China but his lies are not going too well in India where Indian intellectuals, former military officials, and common people are completely demoralized and heart-broken.
This is such a ridiculous way to completely disown martyrdom of 20 soldiers of India army. If Chinese had not entered Indian territory than why did our troop went to negotiate with them and what was the disengagement all about? https://t.co/1wEIaXtpP2

— Sanjay Jha (@SanjayJha) June 19, 2020
Indian media should stop peddling Modi's lies! If Twitter can fact check Trump, why can't they fact check Modi? If China has not occupied Indian territory who killed 20 Indian soldiers in Galwan? Pakistan?

— Ashok Swain (@ashoswai) June 19, 2020
Manjul nails it. What must our soldiers, who laid down their lives evicting the Chinese, be thinking of the PM @narendramodi's statement that there were never any enemy soldiers on Indian territory in the first place.

Here's what they're thinking: "For what exactly did we die?" https://t.co/OX4DsYRfqd

— Ajai Shukla (@ajaishukla) June 20, 2020
A very emotional response by one of the Indian military veterans who thanked God that his children are not serving in the Indian army.
"I thank my three stars that I am retired and my son in not in the Army!": Army veterans explode in anger after PM Modi gives clean chit to China on Ladakh aggression#ModiSurrendersGalwanValley, #ModiSurrendersToChina trend on Twitter https://t.co/spHc4oojgq

— Janta Ka Reporter (@JantaKaReporter) June 20, 2020
Sorry Col. Santosh Babu!! A coward prime minister @narendramodi let us all down & you sacrifice went in vein #ModiSurrendersGalwanValley #ModiSurrendersToChina pic.twitter.com/amN8kuXBce

— Gyanesh Tiwari (@gyanesh_tiwari) June 20, 2020
What really matters now is how you as a leader of Opposition reach out to our fellow ppl & share the reality of COWARD @narendramodi

Your worth consists in what you do @RahulGandhi and not just tweet/ write & then leave it.#ModiSurrendersToChina #ModiSurrendersGalwanValley https://t.co/EgEESS0Y7g pic.twitter.com/bqpdIK2zWH

— Kinju_inc (@IncKinju) June 20, 2020
The opposition leader has also reaffirmed the claim that Indian Prime Minister has surrendered the Indian territory.
PM has surrendered Indian territory to Chinese aggression.

If the land was Chinese:
1. Why were our soldiers killed?
2. Where were they killed? pic.twitter.com/vZFVqtu3fD

— Rahul Gandhi (@RahulGandhi) June 20, 2020
Some Indians even resorted to humor.
Kisi bhi Jawan ki maut zayaa nahi Jayegi…
Sab ke naam par elections me vote manga Jayega!

— Gabbar 🐯 | 🐯 گبّر (@Gabbar0099) June 20, 2020
Don't give Indians ideas.😹😹😹
They might come with a #UriReturns movie with a Fake surgical strike and fool the mass Indians people 😭😭😭
We are really good at our place. No soilders died 🥳
Now l can finally install chinese apps and purchase Chinese products 😁

— Sundar Disilva 🇮🇳 (@_Sundar1816) June 19, 2020
the soldiers didn't die.
that's fake news.
their souls got rid of desire and left it's human body.
they have attained moksha.
they will hereby become Salvation Army (Lotus Regiment).#PMModi will be recruiting more soldiers to this outfit in future.

— J̈́̕͝͠œ̔̒̾͆͐̕!͋̽̿̓͋̔ (@Anti_Nationale) June 19, 2020
Jokes apart, India is epically humiliated not by China but by its own leader and the military while all Indian media is doing now is basically providing them a face-saving escape but with of-course fake news.
Prime Minister Modi's statement only helped the Chinese narrative that they never invaded or annexed the Indian land, it was always a Chinese territory according to China that was illegally under India for some time.