At their last Fourth of July party before graduating in 1991, Neil Gust and Elliott Smith were discussing their futures. "We looked at each other and said: 'Why don't we start a band?'" Gust recounts. The pair resolved to move to a new city and pursue music together. "I realised I had to come out of the closet. I told him at this party, and everything just blew up inside of me – he was the best friend you could possibly have in that moment," Gust said.
Smith would go on to be nominated for an Oscar and become a darling of US indie rock whose haunting songs remain celebrated 20 years after his death at the age of 34. But his band Heatmiser – initially a Fugazi-esque post-hardcore group – are comparatively unknown.
At its heart was Smith's songwriting partnership with fellow singer-guitarist Gust: exploring alienation, depression and Gust's experiences as a gay man against the backdrop of the Aids epidemic. The band broke up on the verge of their breakthrough in 1996, but now a 29-song collection of mostly unheard early recordings entitled The Music of Heatmiser, released by Jack White's Third Man Records, is moving them back into the spotlight.
Gust met Smith at college in 1987, bonding over the Beatles, AC/DC and Elvis Costello. After graduating, they formed Heatmiser in Portland with bassist Brandt Peterson and drummer Tony Lash. Lash had originally befriended Smith in their high-school marching band, playing flute and clarinet respectively. "We'd do this really atonal, purposefully bad version of [Robert Johnson blues song] They're Red Hot," Lash grins, "until one of the trombone players threatened to beat us up."
Lash recalls visiting Smith and Gust's apartment. "They sat on the kitchen floor, and played me Dirt with their electric guitars." That song appeared on their 1992 cassette The Music of Heatmiser and 1993 debut album Dead Air, which Lash mixed as Heatmiser's in-house producer. "They were best friends – they'd sit in their apartment for God knows how many hours, and just work out the guitar parts."
While Gust and Smith's respectively grittier and more melodic styles gave Heatmiser's albums a fragmented quality, they were also contrasting lyricists. "Elliott felt such a deep-seated self-hatred – he'd sing about that stuff and wanting relief from it," Gust says. On Still, Smith imagines his own autopsy. Gust, though, felt "this aching to connect, and fall in love in an honest way", and his lyrics often explore his sexuality: "They swear the Earth is flat / And the bend is in my head" Gust sings on Can't Be Touched.
"Elliott was fully on board with being a queer band," Gust says. "There was really horrible anti-gay shit going on in Portland. It was also a time of Act Up, Queer Nation and Aids activism." Smith cut she/her pronouns from many of his own love lyrics. "He saw that as an opportunity to be more universal about what he was describing. He wanted to empathise and understand – we were brothers."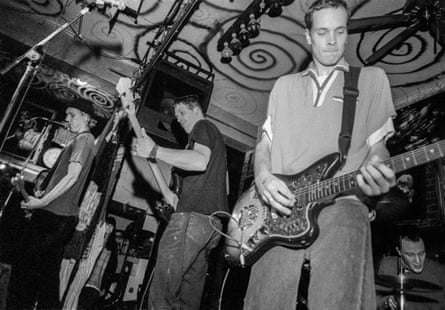 In the previously unheard Man Camp, Smith also attacks the regressive ideas of masculinity touted by the then-recent mythopoetic men's movement. At its forefront was the controversial, bestselling 1990 book Iron John by Robert Bly, who suggested "male energy" had been diluted in the modern age and encouraged the return of male-only gatherings to recover it. Smith skewers this book by name, alongside Sam Keen's similar 1991 book Fire in the Belly. "This movement rubbed him the wrong way," Gust says.
Around Heatmiser's second album, 1994's Cop and Speeder, Smith made his solo debut, Roman Candle. "It didn't seem like any kind of threat – it was like, good job!" says Lash, who mixed Smith's first two albums. Gust, who appears on Roman Candle's cover, made artwork for the first three.
But as Smith's solo career took off, Heatmiser's dynamic changed. "There were forces within the music industry that felt like they were pulling us apart," Gust says. "It was painful."
Relations were collapsing by the time they made their third album, 1996's Mic City Sons, after securing a major label deal with Virgin. Lash recalls walking on to the porch during its recording to find Smith smoking. "I said something about the next record, and Elliott said: 'You think there'll be a next one?'" Soon after, Heatmiser disbanded. Virgin released Mic City Sons on their sister label, Caroline, and exploited a clause binding Smith to them. "It led to us being estranged for a couple of years," Lash says. "Fortunately, we repaired that before he died."
Smith also made amends with Gust, inviting him to his studio in 2002. "I ended up staying for two weeks because he was in pretty bad shape," Gust says. He recalls sleeping on the studio floor, while Smith – who had been struggling with substance misuse – worked manically through the night.
"That's when he told me he'd gone out and bought the Heatmiser catalogue," Gust says. "He said it was good, and we should make another record. I was like: 'Are you fucking kidding me? Of course we can! But you're not healthy enough.'" They resolved to reunite Heatmiser once Smith was drug-free. "That was the last time I saw him."
Lash recently re-acquired many of Heatmiser's early recordings. Though he retired from production to become a therapist, he began remixing and sending tracks to Gust, and they are now finally appearing on the new compilation. Smith is often thought of in terms of his melancholic, desolate folk, but Heatmiser's music tells a different story. "It was so fast, and furious, and tight, and fun," Gust grins. "I couldn't believe it – we sounded like that?"