'Every Iranian woman is a threat," says Shirin Neshat, "just by being a woman." The artist is wearing a black T-shirt emblazoned with the words "Woman, Life, Freedom" – the slogan of the protest movement that erupted a year ago in Iran, following the death in custody of 22-year-old Mahsa Amini, who allegedly flouted her country's strict dress code. Since 1981, veiling in public has been mandatory for every Iranian female over the age of nine, a law enforced by the "morality" police.
Neshat, speaking via Zoom, turns the lens to show me the large, airy warehouse she works in. The artist, now 66, has lived in Brooklyn since the 1990s – longer than she lived in Iran. This week, she returns to Britain to open a new solo exhibition – her last London show, in 2020, was quickly closed down by the pandemic. Its title says a lot: The Fury, featuring a video and a series of photographs, is a blistering attack on Iran's government, a piercing protest against the use of women's bodies as battlefields for national politics and personal desires.
Even on the screen of a laptop, Neshat is a commanding presence. Her eyes are lined heavily in her trademark style – she uses pencil and a calligraphy brush, a tool she has also used in her artworks to add layers of Persian poetry in traditional script. When she speaks, her tone is soft but her words are resolute. "In a country that oppresses and silences women, women have so much power. Their bodies are like knives! You cannot suppress women's energy. We are at the very centre of the political discourse."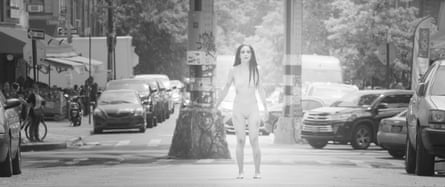 Neshat left Iran in 1975. She was raised in Qazvin, in the north-west. Although the family were practising Muslims, she went to a Catholic boarding school in Tehran. Then, aged 17, she followed in the footsteps of her older siblings and went to the US to continue her education, at Berkeley in California. In 1979, while she was in the US, Iran underwent a revolution that saw the Pahlavi dynasty ousted as Ayatollah Khomeini and his theocratic government seized power.
By the time Neshat returned in 1990, she no longer recognised her homeland. "The country was really transformed – the colour was lifted off – everything seemed to be black and white." She went back to New York, where she has lived in exile ever since. What her work says about Iran and its government makes it too dangerous for her to return. But Neshat has kept her home country, and especially its women, close through her art. In videos, films and photography – always shot in black and white – she has tried to negotiate the dreams and contradictions of a Middle Eastern Muslim feminist facing the western world as both a foreigner and an exile.
Her work has often caused controversy. The 1993 photo series Women of Allah featured portraits of veiled women, some holding rifles, their faces often engulfed by Farsi calligraphy quoting feminist poets and writers. These powerful works incensed a lot of critics. The Iranian government accused her of railing against the regime, while opponents of the government accused her of endorsing Islamic fundamentalism by depicting veiled women with weapons. Many western critics didn't understand her intent at all. "To this day," she says, "the work has been criticised and celebrated at the same time – just like everything I do."
Neshat has shied away from making directly political work ever since. "It was a traumatic experience," she says. "People were rushing to attack me, from the international art world to the Iranian government." Instead, she started making dreamlike, subtly political films with female leads. Rapture, a 13-minute film from 1999 shot in Essaouira, Morocco, projected contrasting images of Muslim men and women on to opposing walls; the men, dressed in white shirts and black trousers, move through the coastal city's ancient fortress; meanwhile, the women, dressed in black chador, cross the desert and eventually reach the ocean. The men remain behind, hemmed in behind the walls.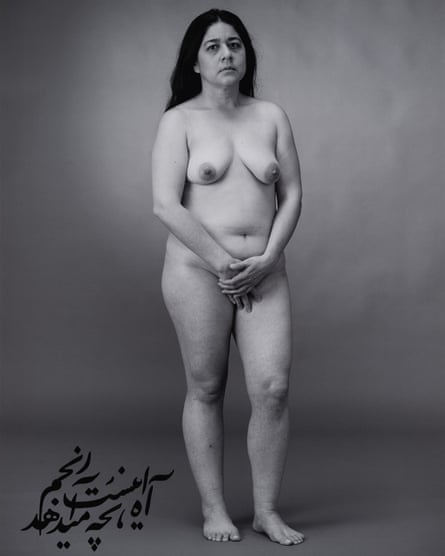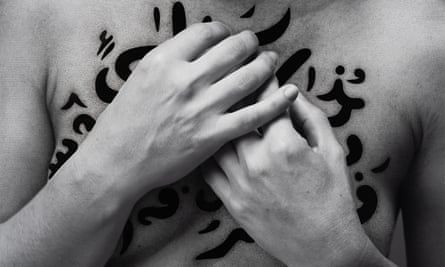 But Neshat's new video, The Fury, sees her reprising the urgency and confrontational approach of earlier work. The 15-minute film – an erotic, psychological drama influenced by Pier Pasolini's Salò, or the 120 Days of Sodom – is a highly stylised fiction, again shot in black and white. It centres around a female protagonist, played by the Iranian-American actor Sheila Vand, who starred in the Oscar-winning Argo. This woman has been imprisoned and raped – and is now struggling with the impact of her experiences.
The Fury was filmed in Bushwick, Neshat's neighbourhood, with a cast including friends from the dance class she attends four times a week, and other members of her close-knit community. The music, meanwhile, is a version of the love song Holm (meaning Dream), performed by the Tunisian singer Emel Mathlouthi. This song was popular in Iran after it appeared in the 1968 film Soltane Ghalbha. But it became the anthem of the Woman Life Freedom movement after 16-year-old protester Nika Shakarami was brutally murdered during last year's protests in Tehran. A YouTube clip of Shakarami singing the song has now been shared widely on social media, its poignant lyrics alluding to "a world where you see rising walls of tyranny / that crush in us dreams and dreams / and reign darkness and greed in all hearts."
Although The Fury's release coincided with the height of the protests in Iran, Neshat began working on the film in 2019, after the trial of Hamid Nouri in Sweden. Nouri, an Iranian official, was found guilty of playing a key role in the torture and massacre of thousands of political prisoners in 1988. Estimates put the number of dead at between 1,000 and 30,000.
After listening to accounts from bereaved families during the trial, Neshat felt "compelled to make a work that speaks about the trauma of a woman who has been under such a torturous experience, but even when she's free, she's not able to escape. Once you're captured and in the hands of the government, they want to break you – and the way to break you is to psychologically destroy you by sexually violating you."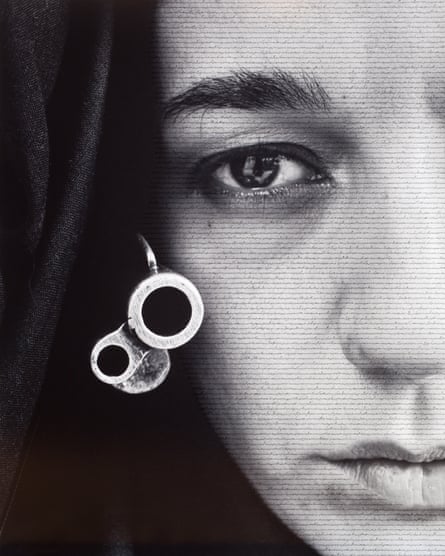 In a virtual reality offshoot to The Fury, about to be shown at the London film festival, the protagonist performs a dance in a room lined with military men. The experience is deeply disturbing, submerging the viewer in the brutal, inescapable gaze of these soldiers.
The new works have such an intensity, they feel personal. I ask Neshat if she has ever experienced abuse. "Most women have been sexually assaulted," she says. "When I was young, people molested me and my sisters and we never talked about it because it always came back to us. Yet we are the ones who must wear the veil."
By making a work so directly about sexual violence, the artist wants viewers "to unleash our own rage. Whether it's a photograph, video or film, my highest aim is to create intense emotions. It must have this guttural effect on the audience. And that's difficult because a lot of people resist that experience."
Despite its anger and blunt force, The Fury is ultimately uplifting (spoiler alert). As the survivor bursts out on to a Brooklyn street, people gather around, screaming in solidarity before starting a mass protest – first tearing down their surroundings, then taking part in a kind of ritualistic dance. Public dancing, prohibited for women in Iran, has now become a form of protest. Here, too, it becomes a transformative act of defiance, a movement shared between the group. "I had to create a piece that wasn't just pointing fingers at the oppressive fascist regime of Iran," says Neshat, adding that she wanted to address "the power of women as the objects of desire – and how they might buy their freedom through that".
The photos that accompany the video are in Neshat's signature style, large-scale black-and-white portraits, but for the first time her subjects appear nude. "I'm known for making photographs of women behind the veil," she says. "It was very radical for me to photograph women naked." The full-length portraits are striking in their stark simplicity. Standing against plain backgrounds, each woman looks back at the camera without artifice or pose. While there are hints of pain and vulnerability, seen side by side these women seem to constitute an army. Neshat sums up their stances with the words: "Look at me – I'm naked and I'm proud of it, exactly as I am."
When it was shown in New York, The Fury was met with both tears and complaints. But, as she prepares to travel to Britain, Neshat says she isn't worried about critics any more. "I stand by the work. I have no regrets. It's exactly what I wanted to say."
And, should her confidence ever falter, Neshat just thinks of the women in Iran who continue to protest on a daily basis, among them her own sisters and mother. "They refuse to give up. They're still resisting. They're doing everything to break the rules. It takes a lot of guts. It's incredible. I don't know any more courageous women on this planet."