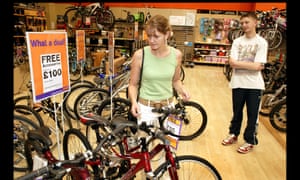 Good morning, and welcome to our rolling coverage of the world economy, the financial markets, the eurozone and business.
Bicycles have joined the lengthy list of products caught up in this summer's supply chain problems.
Car-to-cycles firm Halfords has reported this morning that its bicycle operation has been dragged back in recent weeks by disruption in the global cycling supply chain, with sales sharply lower than last year.
With factories struggling to meet demand, rising commodity prices, transport disruption, and a shortage of drivers and technicians, the company was left facing low availability of some bikes.
And it warns that the situation won't be resolved fast.
Availability of adult mechanical bikes was particularly low over the last 20 weeks, Halford says, leading to "materially lower growth rates towards the end of the period" as it struggled to get hold of stock.
Kids and Electric bikes have fared better, though.
Halfords says it faced three challenges, which will be familiar to anyone following the supply chain problems building up in the economy:
Factory production constraints and raw material inflation.
General freight disruption, capacity constraints and cost inflation.
Supply and recruitment challenges in respect of service technicians and HGV drivers.
Halfords explains:



We expect many of the cycling supply chain issues referred to above to continue for some time albeit, as the UK's largest cycling retailer, we are well positioned to navigate these challenges

Conversely, we are targeting strong growth in our Services and B2B businesses, alongside an improved Retail Motoring performance.
Like-for-like sales in cycling were down almost 23% in the 20-week period to August 20th compared with last year — when there was a boom in cycling in the pandemic. They're still 24% higher than two years ago.
Conversely, the motoring business has bounced back, with sales 52.1% higher than a year ago.
Bicycles join a long list of products affected by the supply chain woes — from aluminium cans at Coca-Cola to mattresses at IKEA — while the labour shortages have left Wagamama struggling to find chefs.
In other news…
Business groups are criticising the government's national insurance hike and surcharge on dividend income to boost health and social care spending from next April, calling it a tax on jobs and a blow to the economic recovery.
The British Chamber of Commerce (BCC) said the extra financial burden from higher tax charges ignored the damage suffered by thousands of small businesses over the last 18 months.
In a separate attack on the tax increases, the Institute of Directors accused the government of an opportunistic ambush, "exploiting public sentiment at the expense of some of the most productive and entrepreneurial segments of the economy".
Bitcoin is under pressure, down around 3% today after tumbling on Tuesday on the first day of El Salvador adopting Bitcoin as legal tender, and suffering some technical glitches.
European markets look subdued, after dropping yesterday as investors worried that the US economy could be slowing.
The agenda
Noon: US weekly mortgage approval figures
3pm: Bank of Canada interest rate decision
4pm BST: Treasury Committee hearing with the Bank of England over its July Financial Stability Report and August Monetary Policy Report