14:50
Explosion occurs outside the Kabul airport, Pentagon confirms
An explosion has occurred outside the Kabul airport where the US and its allies are carrying out evacuations, the Pentagon has just confirmed.
"We can confirm an explosion outside Kabul airport. Casualties are unclear at this time. We will provide additional details when we can," Pentagon press secretary John Kirby said on Twitter.
The explosion comes after the US told people trying to access the airport to leave the area, as Britain, Australia and New Zealand warned of the "high threat" of a terrorist attack.
Kirby and Maj Gen Hank Taylor are scheduled to brief the press on the situation in Kabul in about 40 minutes, so stay tuned.
14:47
The Pentagon press secretary, John Kirby, refuted reports that the US military plans to conclude Kabul evacuations in the next 36 hours.
"Evacuation operations in Kabul will not be wrapping up in 36 hours. We will continue to evacuate as many people as we can until the end of the mission," Kirby said on Twitter.
Kirby and Army Major General Hank Taylor, joint staff deputy director for regional operations, will brief the media on the Kabul mission at 10:30 am ET, and they will likely be asked about these reports. Stay tuned.
14:36
The US has now helped evacuate more than 95,000 people out of Afghanistan since August 14, the White House said in its latest update on the Kabul mission.
A White House official told the press pool that about 13,400 people were evacuated from Afghanistan between yesterday at 3 am ET and today at 3 am ET.
"17 U.S. military flights (14 C-17s and 3 C-130s) evacuated approximately 5,100 people from Kabul. In addition, 74 coalition aircraft evacuated approximately 8,300 people," the official said.
"Since August 14, the U.S. has evacuated and facilitated the evacuation of approximately 95,700 people. Since the end of July, we have re-located approximately 101,300 people."
Secretary of state Antony Blinken said yesterday that as many as 1,500 Americans remain in Afghanistan, and the US military is still looking to wrap up its mission by August 31.
14:36
US and allies warn of 'high' terror threat at Kabul airport
The Guardian's Helen Sullivan and agencies report:
The United States has warned crowds trying to access Kabul airport to leave the area, as Britain, Australia and New Zealand cited the "high threat" of a terrorist attack.
All four countries asked that people no longer attempt to travel to the airport, a distressing call as people with practically no other means of escape from Afghanistan attempt to save their lives and those of loved ones.
A flurry of near-identical travel warnings from London, Wellington, Canberra and Washington late on Wednesday urged people gathered in the area to vacate and move to a safe location.
The security warnings about the airport were specific. "Those at the Abbey Gate, East Gate, or North Gate now should leave immediately," said the US State Department in a warning to its citizens, citing unspecified "security threats". It advised people to approach only if "you receive individual instructions from a US government representative to do so".
On Wednesday night the UK Foreign Office urged people not to travel to the airport, saying: "There is an ongoing and high threat of terrorist attack. Do not travel to Kabul Hamid Karzai international airport. If you are in the area of the airport, move away to a safe location and await further advice."
14:36
Evacuation of Americans from Kabul is 'highest priority,' Harris says
Greetings from Washington, live blog readers.
Kamala Harris wrapped up her nearly week-long trip to Singapore and Vietnam earlier today, and the vice-president held a press conference before starting her travel back to the US.
Asked about whether the Biden administration can ensure the safety of Americans still in Afghanistan, Harris replied, "Our highest priority right now is evacuating American citizens, evacuating Afghans who worked with us and Afghans who are at risk, with a priority around women and children."
Harris noted the US military has made "significant progress" in getting American citizens and Afghan allies out of Kabul.
According to the White House's latest update, the US has helped evacuate more than 95,000 people since August 14.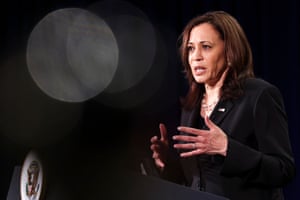 The vice-president also expressed specific concern for Afghan women and girls, amid intense concerns that the Taliban will roll back some of the rights that they have gained over the past 20 years.
"I have worked almost my entire career on a number of issues but with a particular emphasis on the protection of women and children," Harris said.
"And there's no question that any of us who are paying attention are concerned about that issue in Afghanistan."
But many questions remain over how the US and its allies will be able to exert any control in Afghanistan, when they plan to completely withdraw their troops from the country by next week.
The blog will have more coming up, so stay tuned.