Key events
5th over: England 65-0 (Salt 42, Jacks 22) Time for a bowling change, Paul Stirling reckons. On comes Craig Young, who has one job: to stem the flow. And he does, cramping the batters for room and going for just a run a ball. Miserly stuff.
And now it's 23 off the over!
4th over: England 60-0 (Salt 39, Jacks 19) Does Jacks settle for playing second fiddle? He does not. He has a gleam in his eye and he flicks Little's first ball for six, then pulls for six more. Just for a change, Salt plays a straight drive for four. Alas, poor Little – when he does induce a top edge, it lands safely at short fine, and then Salt adds another four. That's 23 off the over! And the fastest 50 in England ODI history.
This game has been under way for 18 minutes and it already has two entries in the record books.
3rd over: England 37-0 (Salt 29, Jacks 7) Funnily enough, there is some swing in the air. But it's not bothering Salt, who lofts the first ball from poor old Adair over cover for another six! A couple of singles, and then Salt blasts another four through the offside ring. He has 29 off ten balls; Adair has 2-0-31-0.
2nd over: England 25-0 (Salt 18, Jacks 6) So Salt started off with 4-4-4-6. What can Will Jacks do? He opens with a four too, driving Josh Little on the up. Little does better with the other five balls, going for just a two, and that would have been a catch if Paul Stirling had posted a third slip. Not that you can blame him.
Salt hits 18 off the first four balls!
1st over: England 19-0 (Salt 18, Jacks 0) Mark Adair has the new ball, though he may wish he hadn't. Salt flashes for four, then drives for four, then flicks for four, then slogs for six!
Can Adair find any respite? He can – after a wide, he digs deep and finds two dots, well done that man. But Salt still grabs an all-time England record for the most runs off the first over in an ODI.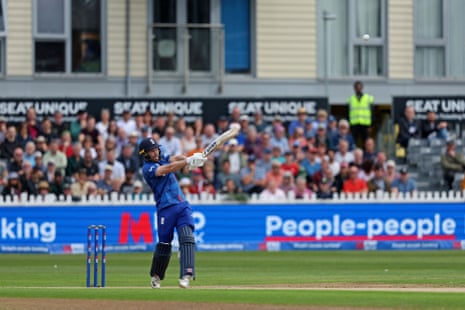 The players are out there, although the sun is not. Phil Salt and Will Jacks are stomping towards the middle.
England 1 Will Jacks, 2 Phil Salt, 3 Zak Crawley (capt), 4 Ben Duckett, 5 Sam Hain, 6 Jamie Smith (wkt), 7 Brydon Carse, 8 Rehan Ahmed, 9 Tom Hartley, 10 Matthew Potts, 11 Luke Wood.
Ireland 1 Paul Stirling (capt), 2 Andy Balbirnie, 3 Curtis Campher, 4 Harry Tector, 5 Lorcan Tucker (wkt), 6 George Dockrell, 7 Theo van Woerkom, 8 Mark Adair, 9 Barry McCarthy, 10 Craig Young, 11 Josh Little.
Teams in brief: one change apiece
Ireland leave out Andy McBrine and bring in Theo van Woerkom, who is a slow left-armer, aged 30, born and bred in New Zealand.
England recall Luke Wood to take the new ball after a bout of tonsillitis. He replaces George Scrimshaw, who, one day into his international career, has already tasted triumph and disaster, so he can probably cope with carrying the drinks.
Toss: Ireland win and bowl first
Zak Crawley flips the coin, Paul Stirling calls tails and he's right. As expected, he opts to chase: "Bit of weather around."
Crawley says he would have batted first anyway. "Looks like a good pitch, might break up later."
Morning everyone and welcome to the OBO. And so we face the final curtain: the last international of the English summer. Brace yourself for cold turkey, severe withdrawal symptoms, the lot – but only for three days, as England's next game will be along on Saturday, in Guwahati, a World Cup warm-up against India.
Anybody remember the first international of the summer of 2023? I had to look it up myself. It was England v Ireland, the first day of the only Test at Lord's. And here we are with England v Ireland, the third one-day international in Bristol. This is either the circle of life or the merry-go-round of modern sport.
Today's game is the 17th of England's home season. Even those who complained about the Ashes being squeezed into seven weeks may have to admit, grudgingly, that there's been a logic to it. First, six Tests: won three, lost two, drawn one, Ireland routed, Ashes not quite regained. Then, four T20s: a tasty 2-2 tie with New Zealand. Finally, seven ODIs: the first lost to NZ, the next three won in some style, and now this tussle with Ireland – one wash-out and one England win so far.
In that last game, at Trent Bridge, Ireland doubled their score after losing their sixth wicket and managed to snatch respectability from the jaws of obliteration. Symmetry surely demands that they take that momentum to Bristol and use it to square the series.
Zak Crawley's team, more or less England's 2nd XI, have played like the big guns, blazing away. You know a team has a clear style when it can rest all its regulars and still give off the same vibes. But Paul Stirling takes no prisoners either and he was one of six Irishmen to get to 25 on Saturday. The only difference between the sides was the way that England's Will Jacks and Sam Hain turned their starts into daddy fifties.
Play begins at 12.30pm BST. There's the odd shower forecast for the first innings, so both captains may be inclined to chase, but there are plenty of sunny spells lined up too – positively balmy for the dying days of September. See you soon after noon with news of the toss and the teams.