As Daniil Medvedev stood in the tunnel of Arthur Ashe Stadium before the US Open final, the last man standing in front of Novak Djokovic's historic grand slam attempt, he was asked in his pre-match interview exactly what he learned from losing to Djokovic in the Australian Open final in February. He responded calmly and without hesitation: "Well, I learned that I have to be much better."
Over the following two hours he simply was. For the majority of his third major final Medvedev bullied Djokovic from the baseline, he erected a defensive wall on his half of the court and he served as if he was standing from a tree. In the process Medvedev thwarted Djokovic's shot at immortality, outplaying the world No 1 6-4, 6-4, 6-4 to win his first major title at the US Open.
Instead of the second ever grand slam of the open era Medvedev engineered his own startling achievement: one day after the third women's major champion born in the 2000s was crowned, he is just the second men's player born in the 1990s to win a major title. Medvedev is also the third Russian man to win a major title after Yevgeny Kafelnikov and Marat Safin.
Despite arriving in the final having registered a perfect year at the four major events, so many of Djokovic's matches have been a struggle. Djokovic had completed only one match in straight sets and his six lost sets were the most conceded en route to any of his 31 grand slam finals. By comparison Medvedev had been spotless, losing just one set, and spent five hours 35 minutes less time on court.
As the encounter began, Djokovic was immediately out of sorts. He led the first game 40-15 but Medvedev quickly locked in, drawing Djokovic into long rallies and sweeping up early unforced errors as the Serb tried to escape them. Medvedev immediately responded to his opening break with a ballistic service game, slamming down first and second serves as he breezed through his opening game to consolidate his break.
As Medvedev marched through his own service games with ease, Djokovic struggled. After he dug himself out of a self-inflicted 0-2, 15-40 deficit, he held until the end of the set but his frequent serve-and-volley attempts, which he also employed in his previous round against Alexander Zverev, suggested a lack of confidence in baseline rallies with Medvedev.
Medvedev closed off the first set with 15-15 first serve points won and only one double fault despite destroying second serves.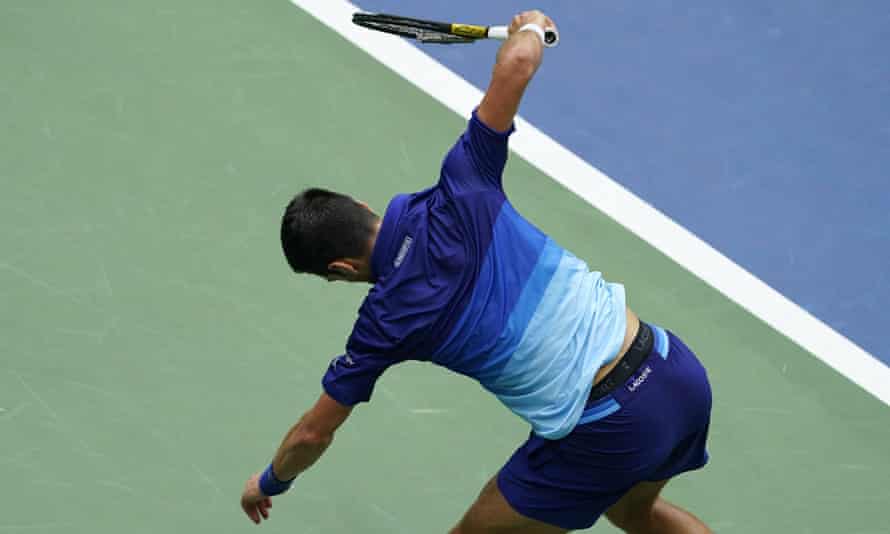 The second set began with the familiar sight of resistance as Djokovic generated triple break point on Medvedev's opening service game but squandered all three chances, thumping his thighs in anger after netting a routine slice.
Then Djokovic generated two break points at 1-2 in the second set. On the first attempt, after returning the ball the big screen malfunctioned mid-point which forced them to replay the point. Medvedev then boldly saved both break points, one with a sweet winning drop volley and then the second with a brilliant backhand down the line. In the midst of another squandered opportunity, Djokovic demolished his racket, lost the game and then immediately conceded his service game.
Despite his famed ability to recover from any deficit, Djokovic had faded. Medvedev coolly served out the set and then he broke serve to open the third set. As Medvedev locked down on the baseline, breezing through service games and punctuating victorious points with calm fists to the sky, Djokovic's legs looked increasingly heavy with every point. He meekly surrendered the second break with a failed serve-and-volley attempt.
Medvedev stood on the baseline to serve for his first grand slam championship at 5-2 but as he reached championship point, he double faulted and lost the game. The crowd, so often Djokovic's nemesis over the years, roared the world No 1 on as he held serve, who then sat in his seat and cried. At the second time of asking, however, Medvedev held his nerve and finished the job.
As the world's eyes rested on Djokovic, Medvedev crept in to win his first major title. It is so well deserved for a supreme player who was a late arrival at the top table of his generation and has continually put himself in the position to succeed. This was his third grand slam final at 25 years old, now both brimming with experience and at his physical peak. Before the tournament he had been clear about his intentions to do his very best to ensure that Djokovic, and no other player, could add to their major tally. He is a man of his word.
As for Djokovic, this has still been an incredible year. He has clinched his record weeks at No 1, which now stand at 337, he became the first man in history to win two of every grand slam tournament and Masters 1000 event and he levelled Rafael Nadal and Roger Federer on 20 major titles. But there is a reason why no man has won a grand slam since 1969 and on a cool September evening, as Djokovic laboured to the finish line, that was clear for all to see.