08:05
In Australia, Victorians will have access to 300,000 doses of Moderna's Covid vaccine this month at hundreds of pharmacies across the state, premier Daniel Andrews says.
Andrews announced Moderna will be available at 440 pharmacies across the state this week, and a further 281 next week.
But he urged anyone who had not yet booked to take up any available vaccine available to them now and not wait. It comes as the state pushes to get up to 70% and 80% double-dose vaccination targets as part of its roadmap out of lockdown. He said:



Please don't defer, please don't wait, because these things are uncertain. Get the vaccine that is on offer right now.

That's the most powerful contribution you can make to your safety, your health and of course to us meeting all those national cabinet timelines so we are open the place up.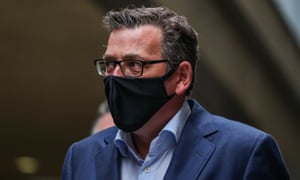 Anthony Tassone, president of the Victorian branch of the Australian Pharmacy Guild, said people aged 60 and over could still only access AstraZeneca.
He said they should not wait for the other vaccines, noting he already had patients over 60 trying to get Moderna.
Updated

06:59
Campaigners have issued fresh calls for a windfall tax on companies that prospered during the pandemic, after research highlighted six firms that increased their profits by a total of £16bn.
The outsourcing firm Serco and online clothes retailer Asos were among the companies whose global profits more than doubled over the last financial year, while one investment trust, Scottish Mortgage, saw its returns grow to nine times the average of preceding years.
The report, from Tax Justice UK, highlights six companies that it says made "excess profits" during the pandemic and argues that they exemplify trends under Covid, where some firms and individuals increased their wealth while others suffered:
Updated