06:16
Japan's health minister says it is highly likely that foreign matter found in Moderna Inc Covid-19 vaccines in the southern prefecture of Okinawa got into vials when needles were stuck in, Reuters reports.
Some Moderna shots were temporarily halted in Okinawa on Sunday after foreign materials were discovered in vials and syringes. The health ministry said later needles may have been incorrectly inserted into vials, breaking off bits of the rubber stopper.
"Whatever the reason (for the foreign matter) we have heard that there is no safety or other issues," health minister Norihisa Tamura told reporters on Tuesday, adding that it was not uncommon for foreign material to enter a vial with other vaccines.
"We will continue to gather information and report back," he added.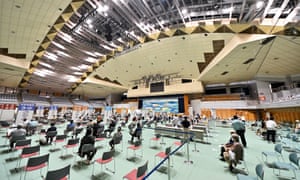 Japan is facing its biggest wave of Covid-19 infections so far during the pandemic, driven by the highly transmissible Delta variant.
A race to boost inoculations has been hampered by delays in imported vaccines and the discovery of the contaminants in some Moderna doses that prompted the suspension of three batches last week.
Taro Kono, the minister in charge of the inoculation campaign, said on Tuesday he wanted to speed up shipments of vaccines to municipalities that had been forced to put a halt reservations due to shortages.
The government is considering when and how to give out booster shots that may be needed to maintain immunity against the virus but is focusing for now on completing the first two shots for the public, Kono told reporters.
06:07
Welcome
Hello and welcome to the Guardian's rolling coverage of the coronavirus pandemic with me, Helen Livingstone.
New cases of Covid-19 have continued to drop in New Zealand, in a promising early indication that the country's strict lockdown is working and its latest outbreak may be coming under control. The country reported 49 new cases on Tuesday, down from 53 a day earlier.
In other developments:
Japan's health minister says it is highly likely that foreign matter found in Moderna Inc Covid-19 vaccines in the southern prefecture of Okinawa came about when needles where stuck incorrectly into vials.
The number of solid organ transplants fell dramatically around the world between 2019 and 2020, a study published in the Lancet Public Health journal has found, highlighting the widespread impact of the Covid-19 pandemic on health services and patients.
South African scientists have detected a new coronavirus variant that may have increased transmissibility. Scientists are yet to establish whether it is more contagious or able to overcome the immunity provided by vaccines or prior infection.
Schools across Europe must stay open and be made safer for staff and children, the WHO and Unicef have demanded, as a new term gets under way with the highly transmissible Delta variant still dominant in the region.
A third-dose booster shot of the Covid-19 vaccine is a way to keep the most vulnerable safe and "not a luxury", the WHO has said. It urged European countries with excess vaccines to share them with other countries, particularly those in eastern Europe and Africa.
Senior WHO officials fear there could be 236,000 more Covid deaths in Europe between now and 1 December on account of stagnating vaccination rates and low uptake in poorer countries.
The UK has reported 26,476 new cases of Covid-19 between 24 August and 30 August, bringing reported cases up by 1.8% compared with the previous seven days.
Two counties in the US state of Oregon, hit hard by Covid-19, are running out of space to hold bodies amid an intense surge in cases that is overwhelming the state's healthcare system, forcing authorities to request refrigerated trucks to help handle the overflow.
The Czech government will offer a booster Covid-19 vaccine to any previously vaccinated person. The jabs will be available from 20 September.
France will provide 10m doses of AstraZeneca and Pfizer vaccines for Africa over the next three months, President Emmanuel Macron's office has announced.
Scottish first minister, Nicola Sturgeon, tested negative for Covid-19 after being identified as a close contact of a person with the virus. Sturgeon was self-isolating pending a PCR test result but she was no longer doing so in accordance with current regulations.