06:53
A foreign participant in the Paralympic Games in Japan has been hospitalised with non-severe symptoms of Covid-19, Kyodo News has reported, citing the Games' organising committee.
It is the first hospitalisation of the Tokyo 2020 Paralympics, which opened on Tuesday. Hospitals in Japan treating Covid-19 patients have usually reserved beds for people showing severe symptoms.
The national government and the Tokyo Metropolitan government appealed on Monday to hospitals in the capital to accept more Covid-19 patients.
Less than 10% of coronavirus patients are hospitalised in Tokyo, and the low level of admissions has added to public frustration with the government's Covid-19 response, undermining voter support for prime minister Yoshihide Suga.
06:44
If you're commuting to work or doing the washing up and need something to listen to, check out our Science Weekly podcast, which this week looks at why children in the UK aren't being vaccinated against Covid-19 even as in-person teaching is set to resume.
06:32
A Covid-19 modeller has suggested New Zealand's North and South islands could become separate bubbles as the country grapples with a coronavirus outbreak.
New Zealand is battling to contain an outbreak of the Delta variant that swiftly led to a nationwide, level four lockdown – the highest setting – which has been extended until at least the end of the week. There are now 210 cases in the community.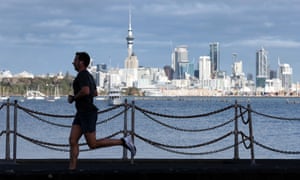 There have been no cases in the South Island, but the 20,000-strong list of close contacts linked to the current outbreak extends across both islands. Around 120 people, who were potentially exposed to the virus at locations in Auckland, are isolating in the South Island.
Auckland could expect to stay in lockdown for a number of weeks , but a North Island and South Island split could make sense, Covid-19 modeller at the University of Auckland, Shaun Hendy, told TVNZ.
"I think at this stage, a North Island and South Island split is probably what we'd be looking at," Hendy said.
06:24
The premier of the Australian state of New South Wales, Gladys Berejiklian, has relaxed rules on outdoor gatherings for fully vaccinated people, even as the region reported a record 1,029 infections and three deaths on Thursday.
Small groups of fully vaccinated people will now be allowed to meet outdoors, but the so-called "picnic rules" are more limited for the 12 local government areas of concern than the rest of the state, and do not come into effect until 13 September.
The statewide lockdown was also extended by another two weeks from Saturday and chief health officer, Dr Kerry Chant, acknowledged that "the numbers may well go way above a thousand cases".
The government is expected to make an announcement about the future of reopening schools and the higher school certificate on Friday.
06:11
Moderna Inc says it has withheld supply of about 1.63 million doses of its Covid-19 vaccine in Japan after a report of contamination of vials with particulate matter, which it suspects involves a production line in Spain, Reuters reports.
While Moderna said no safety or efficacy issues had been identified, the suspension is a fresh setback for the firm whose partners had production delays last month that disrupted supply to countries including South Korea.
"Moderna confirms having been notified of cases of particulate matter being seen in drug product vials of its Covid-19 vaccine," it said in a statement.
"The company is investigating the reports and remains committed to working expeditiously with its partner, Takeda, and regulators to address this," it added, referring to Japan's Takeda Pharmaceutical.
It said the contamination could be due to a manufacturing issue in one of the production lines at its contract manufacturing site in Spain.
It was not immediately clear whether the issue affected supplies to other countries.
Moderna did not immediately respond to a Reuters' request for comment. Spain's Rovi, which bottles or "fills and finishes" Moderna vaccines for markets other than the United States, was not immediately available to comment.
The vaccine lot with complaints had 565,400 doses and Moderna said that "out of an abundance of caution" it had put the lot on hold and two adjacent ones.
Takeda said it conducted an emergency examination after particulate matter was found in a lot of vaccine vials at an inoculation site in Japan.
Japan's health ministry said on Thursday had it decided to withdraw some doses as a precaution after consultation with Takeda but will strive to minimise the impact of the withdrawal on its inoculation plans.
06:08
Welcome
Hello and welcome to the Guardian's rolling coverage of the coronavirus pandemic with me, Helen Livingstone.
Moderna Inc says it has withheld supply of about 1.63 million doses of its Covid-19 vaccine in Japan after a report of contamination of vials with particulate matter, which it suspects involves a production line in Spain.
New Zealand's prime minister, Jacinda Ardern, has dismissed criticism of her ambitious elimination strategy to stamp out Covid, as the country's outbreak grows, saying the approach has saved lives and will continue to do so.
The Australian state of New South Wales has reported a record 1,029 cases, with hospitals in Sydney, the epicentre of the outbreak, struggling to cope with the rise in patients. The nurses union says multiple facilities are under "enormous pressure" and have "very little capacity" in their emergency departments.
Here's what else has been happening over the past 24 hours:
The scientists dispatched to China by the WHO to discover Covid's origins said that the window of opportunity for solving the mystery is "closing fast". They appeared to be attempting to reframe their original finding, which said a lab leak was "extremely unlikely", after details emerge on how terms were agreed with Chinese officials.
Brazil announced it will give Covid booster shots to immunosuppressed or vulnerable people, and citizens over the age of 80, after it emerged yesterday it had leaked its supply contract with Pfizer – showing it provided the pharma giant with indemnity from possible citizen lawsuits over potential adverse events after it provided jabs at cheaper prices.
Papua New Guinea has banned all repatriation flights from India, after accusing the country's high commission of a deliberate "deception" that resulted in passengers infected with Covid-19 arriving in the country.
Taiwan reported zero community cases of Covid-19 for the first time since its biggest outbreak began in May, killing more than 800 people. Residents had lived a largely normal life for most of 2020 and early 2021, albeit with closed borders.
The emergence of the Delta variant means that vaccination may not prove to be the magic bullet that many governments hoped for, a new report by the Economist Intelligence Unit said. It called on political leaders to rethink their Covid strategy to adapt it for the long term.