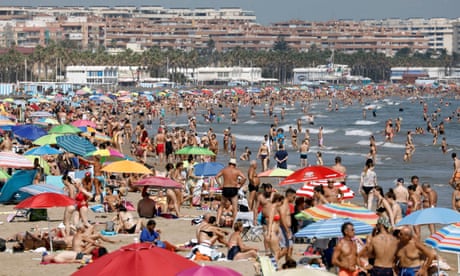 Thomas Cook chief executive predicts this weekend will be biggest of the year so far; about 1,000 protesters gather in Melbourne as state records 535 cases
9.46am BST
Russia has reported 799 deaths from Covid-19 in the past 24 hours.
There were 20,329 new Coronavirus cases in the past 24 hours compared with 19,905 cases on the previous day, Reuters reports.
9.41am BST
The night-time economy in Wales needs "clarity" and "simplicity" when it comes to the implementation of Covid vaccine passes, an industry chief has warned, PA reports.
David Chapman, UKHospitality's executive director for Wales, said there are unanswered questions about how the scheme will work.
I think it's about timing, about definition, about capability, about people being able to be in position to do all of those checks to make it work.
Will they be effective in the long run, compared to the commercial viability impacts that they have? I don't know. Is it possible that people could take other people's passports and use them? How efficient is this?
This industry has just got to take it on the chin. The problem is, it's got two black eyes, a broken nose and it's on the canvas already.
We've got staff shortages, we've got great difficulties within businesses about trying to get our heads not above water, but we're already under water, and to make it happen.