08:23
Media in Australia are reporting that a woman who tested positive for Covid had her car torched in a suspected vigilante attack after her infection resulted in restrictions being reimposed in parts of south Australia.
Seven News in Adelaide reports that the car was found alight at her home late on Tuesday night local time. She and her children were not home at the time of the suspected arson attack.
Local press are reporting rumours relating to where the woman might have contracted Covid.
SA police commissioner Grant Stevens spoke out against the attack saying.

"People shouldn't assume that they know what's going on, it's completely unnecessary, it's unwarranted," he said.
"They've committed a serious crime and if we do detect them we'll deal with them appropriately but I'm just asking people to show tolerance."
Updated

08:15
Welsh first minister Mark Drakeford has been speaking about last night's knife edge vote that approved the introduction of Covid passes in Wales.

Drakeford said the purpose of the Covid pass was "not to penalise any business, it's to give that business an extra defence to allow it to continue to operate".
Asked about the close vote in the Senedd – the Welsh parliament – on having Covid passes, he told BBC Radio 4's Today programme: "It was an extraordinary moment, but what was really extraordinary was the fact that opposition parties were not prepared to support this simple measure which will help to keep people safe from coronavirus."

He added: "The vote is taken on the floor of the parliament, the way the vote is conducted is not for the government, that is for the parliament. It is members' responsibilities to make sure they are in the chamber or on Zoom and 59 of 60 members managed to do that."

On nightclubs, he said: "The point of the Covid pass is to allow businesses to stay open. If we don't have this defence and coronavirus numbers rise over the autumn and the winter, then these are the venues which will be the first to be closed. So, the purpose of it is not to penalise any business, it's to give that business an extra defence to allow it to continue to operate."
The controversial plans to introduce a compulsory Covid pass for nightclubs and big sporting events were backed by only one vote.
On Tuesday evening, the Tories, Plaid Cymru, and the Liberal Democrats, all voted against the move but the plan squeezed through by 28 votes to 27.
The Labour-led government argued that the pass, due to come into force on Monday, was needed to drive down worrying rates of Covid-19 infection especially among young people in Wales.
They accused those who opposed it of "gross irresponsibility".
Updated

08:01
The Czech Republic reported more than 1,000 new Covid-19 cases in one day for first the time since 18 May, data from the health ministry said on Wednesday. On 5 October tests identified 1,108 new cases in the country of 10.7 million, the figures showed.
Local media reports that the health ministry will decide whether to tighten some Covid control measures due to the increase in infections.

Updated

07:42
Almost one in 10 people in the UK will have diabetes by 2030, putting them at increased risk of a severe reaction to Covid.
About 5.5 million people are likely to be living with diabetes within the next decade, a crisis fuelled by obesity and putting them at risk of "devastating complications" including heart attacks, kidney failure, stroke, amputation and blindness, Diabetes UK said.
Chris Askew, the charity's chief executive, said the country is "at the tipping point of a public health emergency" and action is needed "to stop it in its tracks".
The charity is calling for action on several fronts, including enrolling more people in the NHS diabetes prevention programme. The programme aims to help people reach a healthy weight, learn to eat better and make regular exercise a part of life.
Diabetes UK also wants people who are diagnosed with type 2 diabetes to go into remission where possible through measures such as tailored weight-loss advice or gastric band surgery.

At the moment, almost 4.1 million people in the UK are diagnosed with either type 1 diabetes (which accounts for fewer than one in 10 cases) or type 2, which is heavily linked to obesity and can also be influenced by age, ethnic background and family history.

Prof Jonathan Valabhji, national clinical director for diabetes and obesity at NHS England, said: "Diabetes can have a marked effect on people's lives, with higher risks of heart attacks, strokes, limb loss, many of the common forms of cancer, and more severe outcomes with Covid-19 but, thanks to better NHS treatment and care, the outlook for people with both type 1 and type 2 diabetes has improved considerably over the last few decades."

Updated

07:18
"Covid toes", a chillblain like inflammation of the feet and hands, may be a side-effect of the immune system's response to fighting off the virus, a study has found.
The condition typically develops within a week to four weeks of being infected and can result in toes and fingers becoming swollen or changing colour. There is evidence of it lasting sometimes for months at a time
Researchers behind the study, which has been published in the British Journal of Dermatology, examined 50 participants with Covid toes and 13 with similar chilblains lesions that arose before the pandemic.
They found one mechanism behind both types of the condition involved the body generating an immune response with high levels of certain autoantibodies, which mistakenly target and react with a person's own cells and tissues as well as the invading virus. They also found an overlap with type I interferon, a key protein in the antiviral response.
Senior author of the study, Dr Charles Cassius, said the research provided a deeper understanding of the condition. "The epidemiology and clinical features of chilblain-like lesions have been extensively studied and published, however, little is known about the pathophysiology involved," he said. "Our study provides new insights."
Updated

07:13
Good morning I'm Harriet Grant and I'm taking over the liveblog from my colleague Samantha Lock.
07:07
Los Angeles set to enact strict vaccination mandates
Los Angeles is poised to enact one of the US's strictest vaccine mandates, which will require residents to be vaccinated in order to enter a variety of indoor public spaces including bars, restaurants, nail salons and gyms.
The ordinance is intended to reduce the risk of new Covid-19 surges after the nation's second-most populous city faced a huge rise in infections and hospitalisations last winter and a smaller surge this summer linked to the spread of the highly contagious delta variant.
Mayor Eric Garcetti expressed his support for a vaccine measure last week, saying: "I don't want to bury another city employee, police officer, firefighter."
The county will require proof of one dose as of Thursday, while proof of full vaccination will be required by 4 November.
Of the county's roughly 10 million residents, 78% have received at least one Covid-19 vaccine dose and 69% are fully vaccinated, according to public health officials.
A growing number of places across the US, including San Francisco and New York City, are requiring people to show proof of vaccination to enter various types of businesses and venues.
Updated

06:38
Immunocompromised Australians could start receiving Covid booster jabs
Australians with compromised immune systems could start receiving Covid-19 booster shots this year before third jabs are rolled out more widely in 2022, AAP reports.
Health authorities are closely monitoring overseas programs with the US, the UK, Israel and France among countries offering boosters.
Vaccine rollout coordinator John Frewen said science was not yet settled on third jabs, but the health department was working on a strategy.
"It's possible we may see a third dose for those people who have compromised immune systems in some way, maybe later this year," he told the Seven Network on Wednesday.
"But otherwise I think that the plan for the boosters will either be later this year or more likely into next year when it will all become a bit like the flu shot."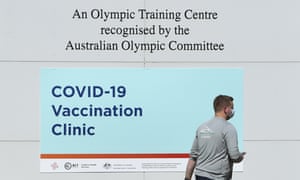 Updated

06:26
China has reported 26 new Covid-19 cases on the mainland for 5 October, the same as a day earlier, the national health authority confirmed.
Two of the new infections were locally transmitted and the rest imported, the National Health Commission said, as reported by Reuters.
It reported zero new asymptomatic cases, which China does not classify as confirmed cases, while one such case was reported the day before. No new deaths were reported.
06:12
Covid surge pushes Alaska's health care system to brink
The highly contagious delta variant is spreading across Alaska, driving one of the nation's sharpest upticks in infections and posing concerns for those who may not be able to reach medical care, the Associated Press reports.
Alaska's health care system largely relies on hospitals in Anchorage, the state's largest city, and experts worry that remote outposts like Tanacross – where the closest hospital is hours away – are at risk.
The state's largest hospital, Anchorage's Providence Alaska Medical Center, is said to be overwhelmed with patients and declared crisis-of-care protocols, meaning doctors are sometimes prioritising care based on who has the best odds of survival.
Health care providers worry for those needing higher levels of care who live in rural areas, concerned no beds may be available.
Alaska has contracted nearly 500 medical professionals to help over the next few months but health officials say hospital staffing is still limited and blame rising Covid-19 infections and low vaccination rates in the state. About 60% of eligible residents in the conservative state are fully vaccinated.
According to data collected by Johns Hopkins University, one in every 84 people in Alaska was diagnosed with COVID-19 from 22 September to 29 September, the nation's worst diagnosis rate in recent days.
Updated

06:09
Hello and welcome to our live coverage of the coronavirus outbreak.
I'm Samantha Lock and I'll be giving you a rundown of the latest coronavirus updates as they happen.
England has been urged to step up the distribution of Covid booster shots and second vaccinations for teenagers to avoid a surge of the virus over winter, a senior scientist advised.
Prof Neil Ferguson, the head of the influential disease modelling group at Imperial College London, said even a moderate rise in infections could put the NHS under pressure.
The head of the International Monetary Fund said the most serious obstacle to a full recovery was the vaccine divide between rich and poor nations and warned the global economy could suffer a cumulative $5.3tn loss over the next five years unless it was closed.
Here is a round-up of all the day's leading coronavirus news stories.
A former athlete warns of the debilitating effects of long Covid. Will Smith, now 24 years old, caught Covid-19 in March 2020 and has been battling long Covid ever since.
The UK reported 33,869 new coronavirus cases and 166 deaths on Tuesday. The official figures showed that 348 out of every 100,000 people have coronavirus.
The World Health Organization is still reviewing whether Russia's Sputnik V vaccine can be approved by the UN health agency for emergency use against coronavirus.
Norway will soon offer a third dose of Covid vaccines to people aged 65 and older, the health minister Bent Høie said on Tuesday.
Spain has approved administering of third doses of the Pfizer and Moderna vaccines, which are based on the same mRNA technology, for people aged 70 or over, the health ministry said.
A Republican senator in the US was booed and catcalled when he told a party audience in South Carolina to think about getting a vaccine against Covid-19.
More than 100,000 children in England are off school with confirmed cases of Covid, according to Department for Education figures. The proportion of children at school has fallen below 90% – worse than this time a year ago.
Updated