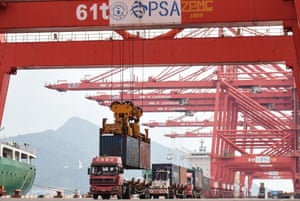 Good morning, and welcome to our rolling coverage of the world economy, the financial markets, the eurozone and business.
China's exports have surged unexpectedly, as strong overseas demand helped the world's second-largest economy overcome the impact of fresh Delta variant outbreaks.
Chinas exports jumped 25.6% in dollar terms in August, compared to a year before, to reach $294.3bn. That's an acceleration from July, when exports rose 19.3% year-on-year — and rather faster than expected.
Imports were also strong, jumping over 33% year-on-year to $236bn, leading to a trade surplus of $58.3bn for August.
This better-than-expected trade data will calm some worries that China's economy was entering a sharp slowdown, as Beijing clamps down on technology giants and the education sector, and tightens restrictions on its real estate sector.
Some overseas customers may have brought forward their orders for products to sell in the Christmas and Thanksgiving season — worried that supply chains will struggle to cope with demand. Export growth of machineries and hi-tech products were strong.
Bloomberg says:



"The hot season for Christmas came earlier than previous years," said Xing Zhaopeng, senior China strategist at Australia and New Zealand Banking Group Ltd. in Shanghai. New products from Apple Inc. created demand, while delta virus outbreaks in Southeast Asia probably caused orders to be diverted to China, he said.

"It will remain strong before November," he said.

The top three exports by value were electronics, high-tech products, and clothing and clothing accessories, while the top imports were electronics and high-tech products, the data showed.
China's manufacturers had to overcome disruption at ports due to the pandemic.
Ningbo, the world's third-largest port, was partly closed for a time last month after an employee tested positive for coronavirus, leading to delays in getting good in and out of the country.



Zhang Yi, Beijing-based economist at Zhonghai Shengrong Capital Management, said China's exports may sustain its strong growth into the fourth quarter, with overseas demand for Chinese goods over the Christmas season possibly exceeding expectations.

"We believe the main constraint facing China's exports right now is the very stretched international shipping capacity."
Data last week showed China's service sector contracted in August, due to pandemic restrictions, but exporter seem to have fared better.
Jeffrey Halley, senior market analyst for Asia Pacific at OANDA, says the trade data will alleviate slowdown fears:



Although the numbers are less rosy in Yuan terms and base effects slightly flatter, the data is still impressive, coming against a background of sporadic delta variant closures, port congestion, supply chain bottlenecks and higher commodity prices.

Asian equities are breathing a sigh of relief, and oil prices have moved higher post-data.
In the UK, meanwhile, the supply chain crisis continues to gather pace.

Yesterday, one of Britain's biggest builders' merchants warned of shortages of materials as the UK construction industry struggles under mounting pressure from the deepest supply chain crisis in decades.
Jewson has told customers that prices for a range of goods – including timber, wheelbarrows, insulation and adhesives – will rise by as much as a fifth this month amid growing evidence from across the construction sector of severe and sustained disruption linked to Covid and Brexit.
The warning came as building firms reported slower growth, and car sales dropped in the struggle to obtain semiconductors.
European markets are expected to open slightly lower, as traders wait for Wall Street to return after Monday's Labor Day holiday.
The agenda
7am BST: Halifax index of UK house prices in August
7am BST: German industrial production for July
10am BST: Updated eurozone growth figures for Q2
10am BST: ZEW survey of German and EU economic morale in September
10.30am BST: South Africa's Q2 GDP figures