Joe Biden has pressed congressional Republicans to back a deal to provide more aid to Ukraine, after provisions for Kyiv were left out of a bill to avoid a US government shutdown.
The US president said on Sunday he was "sick and tired" of the political brinkmanship, and that US support for Ukraine could not be interrupted "under any circumstances". Republicans had pledged to provide Ukraine aid through a separate vote, he said.
Without referring directly to the US bill, Ukraine's president Volodymyr Zelenskiy said on Sunday that nothing would weaken his country's fight against Russia, and that no one could "shut down" Ukraine's stability, endurance, strength and courage, echoing a Ukrainian verb often used to refer to power outages caused by Russian attacks. The Ukrainian president's comments were made in a recorded speech released on the Defenders Day holiday.
Speaking earlier, Biden told reporters: "We cannot under any circumstances allow America's support for Ukraine to be interrupted. I fully expect the speaker to keep his commitment to secure the passage and support needed to help Ukraine as they defend themselves against aggression and brutality."
Asked if he could trust the Republican House speaker, Kevin McCarthy, to honour deals, Biden said: "We just made one about Ukraine, so we'll find out", referring to Republican promises of passing a separate bill on the issue.
Officials in Kyiv have sought to reassure the country that US support for their efforts to repel Russian forces remained intact after Congress on Saturday passed a stopgap bill that extended government funding for more than a month, but did not include aid for Kyiv. The United States has been a major supporter of Ukraine, and Biden has sought to rally the world, as well as his own country, to maintain that support.
Ukraine defence minister Rustem Umerov said he had received reassurances about further military assistance in a telephone call with US defence secretary Lloyd Austin. "Secretary Austin assured me," Umerov wrote in a post on X, using flags in place of country names, that US support to Ukraine "will continue" and that Ukrainian "warriors will continue to have a strong back-up on the battlefield".
Foreign ministry spokesperson Oleg Nikolenko stressed on Facebook that previously approved funds would be unaffected. "Support for Ukraine remains unwaveringly strong in the US administration, in both parties and chambers of the US Congress, and most importantly, among the American people," he wrote.
On a difficult weekend for Ukraine, the US bill to avert a shutdown came after the parliamentary election success in Slovakia of pro-Moscow figure Robert Fico. He campaigned on a pledge to end military aid to Ukraine, and said on Sunday his position "has not changed" after his party's clear election win. The 59-year-old, whose stance has sparked fears Slovakia will join Hungary and its authoritarian leader Viktor Orbán in challenging the EU's consensus on support for Kyiv, added: "People in Slovakia have bigger problems than Ukraine."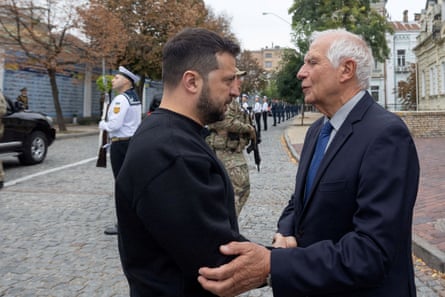 In contrast, European Union foreign policy chief Josep Borrell said during a visit to Kyiv on Sunday that the bloc was "preparing long-term security commitments for Ukraine".
"Ukraine needs more capabilities & needs them faster," he said in a statement posted on X. He said he had discussed "continuous EU military assistance" during his first in-person meeting with defence minister Umerov.
Umerov thanked Borrell in a statement on X for "continuous support" and said the meeting was "a starting point for great cooperation". He said their discussions of EU military aid to Ukraine covered artillery and ammunition, air defence, electronic warfare and long-term assistance programs.
Last month, Biden assured Zelenskiy during a visit to Washington that strong US support for his war to repel Russian invaders would be maintained despite opposition from some Republican lawmakers.