15:13
White House plans to withdraw Chipman's nomination to run ATF – reports
The White House plans to withdraw David Chipman's nomination to lead the Bureau of Alcohol, Tobacco, Firearms and Explosives, according to multiple reports.
Chipman had faced intense criticism, mostly but not entirely from Republicans, over his advocacy work with the gun control group Giffords.
Joe Biden announced Chipman's nomination in April, as part of a broader strategy to crack down on gun violence in the US.
According to Politico, the White House has offered Chipman a role at the Justice Department, so he will still likely be a member of the Biden administration.
Here's the Guardian's report from July on efforts by Republicans and the National Rifle Association to block Chipman's confirmation:
14:54
The Guardian's Dani Anguiano reports on the coronavirus surge in Medford, Oregon:
There was a time earlier this summer when April Rivera and the staff at the drive-through Covid testing site in southern Oregon where she worked had considered closing their doors because demand was so low.
Now, hundreds of patients are lining up at the Asante Rogue regional medical center's testing site in Medford every day, filling the temporary drive-through in a strip mall parking lot. Even the national guard has been called in to help. Some patients are arriving so sick they've been taken away in ambulances while still in line.
Despite the widespread availability of vaccines, this region of Oregon is in the grip of an intense Covid-19 surge that has filled local hospitals to capacity, overwhelmed healthcare workers and killed 37 people in the last two weeks.
Last month, cases in the Medford area in Jackson county were growing faster than anywhere else in the US, driven by the hyper-contagious Delta variant and a low vaccination rate.
On Friday afternoon at the drive-through testing site, under a thick haze of wildfire smoke, a steady stream of patients waited in their cars to receive tests.
14:34
Biden to mandate coronavirus vaccinations for all federal workers – reports
Joe Biden is reportedly expected to announce today that he will require all federal workers to get vaccinated against coronavirus, without any testing option to opt out of the mandate.
CNN reports:



Among the steps the President will take is signing an executive order requiring all federal workers be vaccinated against Covid-19, with no option of being regularly tested to opt out of the requirement, according to a source familiar with the plans.

The President will also sign an executive order directing the same standard be extended to employees of contractors who do business with the federal government. The Department of Defense, the Department of Veterans Affairs, Indian Health Service and National Institutes of Health will also complete their previously announced vaccination requirements, which the White House estimates covers 2.5 million workers.
Biden announced in July that federal workers would be required to attest to being vaccinated or receive regular coronavirus tests to limit the spread of coronavirus in government workplaces.
However, the president has been under intense pressure to ramp up vaccine requirements as coronavirus case numbers have climbed due to the spread of the Delta variant.
14:34
Melody Schreiber reports for the Guardian:
As millions of children head back to school across the US, health experts are highlighting a troubling trend: hundreds of thousands of them are testing positive for Covid.
More than 250,000 children had new cases in the last week of August, the American Academy of Pediatrics said in a report published on Tuesday. That's the highest weekly rate of new pediatric cases since the pandemic began, and it's a 10% increase in two weeks.
With slightly more than 1m new Covid cases reported in the US during that period, that means one of every four new cases in the country was among children.
Children's hospitals are straining under the spike in cases. About 2,500 children were hospitalized with Covid-19 in the week up to 6 September, which is also more than ever before, data from the US Centers for Disease Control and Prevention shows.
A total of 750,000 children tested positive between 5 August and 2 September, the AAP said. In the same time period, 54,859 children were admitted to hospitals, according to the CDC.
Over the course of the pandemic, 5 million children in the US have tested positive for Covid-19 and at least 444 have died, the AAP said.
14:34
Melody Schreiber reports for the Guardian:
Charlaine was skeptical of the vaccines at first. She wondered how they were created so quickly, and she was wary of the long history of medical experimentation and disregard for Black people like her in the United States.
But then Charlaine, a nurse in a neonatal intensive care unit, thought about the disparate health outcomes for people of color in the pandemic – and knew that she might not receive the same level of care as others if she got sick.
She did her research and determined that the mRNA vaccines, which became available to health workers late last year, are safe and effective. Charlaine, who asked to use only her first name to protect her job, got her vaccine in January.
"Here we have this virus that is killing, maiming, debilitating people, and I knew that if I was in a position of being sick, I would be treated differently and probably not survive. So that was one layer of protection that I wanted to give myself," she said.
A year and a half into the pandemic, healthcare workers are exhausted, burned out and worried that the worst is far from over. Amid that stress, much attention has been focused on nurses who haven't received the vaccine, even though the majority of these essential workers have been inoculated. That has left many nurses feeling betrayed, both by their unvaccinated patients and by public perception.
14:34
Biden to outline new strategy to combat Delta variant of coronavirus
Greetings from Washington, live blog readers.
Joe Biden will deliver a speech today on "his robust plan to stop the spread of the Delta variant and boost COVID-19 vaccinations," according to his official schedule.
The White House has said the president will outline six steps to get the virus under control, as case numbers have climbed in recent weeks due to the spread of the Delta variant.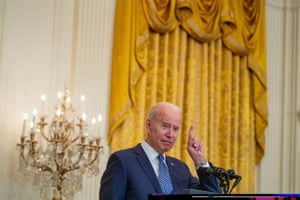 "He's going to lay out these six steps tomorrow because we have more work to do, and we are still at war with the virus and with the Delta variant," White House press secretary Jen Psaki said yesterday.
Asked whether average Americans' daily lives would be affected by the president's new strategy, Psaki replied, "It depends on if you're vaccinated or not."
As of now, 75% of US adults have received at least one vaccine dose, according to data from the Centers for Disease Control and Prevention.
But many Americans, namely children, are still not eligible to get vaccinated, leaving many questions about how schools can remain open in communities with high levels of coronavirus spread. Biden will likely address that very issue this afternoon.
The blog will have more coming up, so stay tuned.