Erica Sackin, political communications director of women's health services and abortion provider Planned Parenthood, said that the new law in Texas risks promoting vigilantism from the public.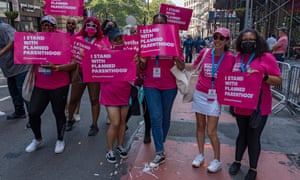 Critics argue that it sets a dangerous precedent beyond just abortion – imagine if anyone could sue anyone over a constitutional right they simply didn't agree with.
Sackin told CNN a little earlier: "We gave never seen a law like this one before. This 'sue thy neighbor' provision means that it's not just going to be impossible for people to get an abortion but it really creates, almost, this vigilante, where they can go after anyone they suspect of having helped someone to get an abortion."
CNN's Alisyn Camerota asked Sackin what she thought, given that Texas Republican governor Greg Abbott is fond of banning mask mandates and isn't in favor of vaccination mandates and argues that Texans and not state government should decide their own best practices, yet has egged on the state abortion ban.
Sackin said: It's really hard to hear something like that coming out of his mouth, especially when we're looking at what this law means for people across Texas. Right now patients are scared, parents are worried, patients can't make the most personal decision about if and when they want to become a parent.
"If they even are going to be able to get an abortion at all it's going to mean driving hundreds of miles out of state, if they an afford it, and that includes not just the drive, that includes accommodation, funding an appointment, taking time off of work, finding childcare, so really the layers and layers of restrictions on getting an abortion in Texas are unbelievable."
Sackin said Planned Parenthood would continue to fight and were waiting for the Supreme Court "to hopefully weigh in" adding "we are deeply disappointed that they didn't take any action overnight…but it's still possible they will take action and allow some emergency relief, because of how much harm this law will cause."
Sackin warned, however, that the move in Texas by anti-abortion forces was "just one piece of an agenda we are seeing across the country" to make abortion inaccessible.