Key events
We're about half an hour away from Justice Anthony Besanko's decision. We've confirmed that he will deliver a summary of his decision, despite the commonwealth's intervention to attempt to delay the release of his full judgment on national security grounds.
While we wait, can I recommend the excellent Guardian Australia podcast on the case, featuring reporter Ben Doherty.
It is a phenomenal piece of work which explores the case in gripping detail.
This case is extraordinary for many reasons, not least of which is its sheer scale and cost. The trial, one of the longest-running defamation cases in Australian history, took 110 days and heard from 41 witnesses.
Legal costs are estimated to range from $25m to $35m, a staggering sum.
Defamation expert Jaqueline Meredith of Swinburne University said the complexity of the case was due to the media outlets' use of the truth defence.
A key reason for the complexity in this case is the reliance by the newspapers on the defence of truth. This involves a complex and lengthy fact-finding exercise.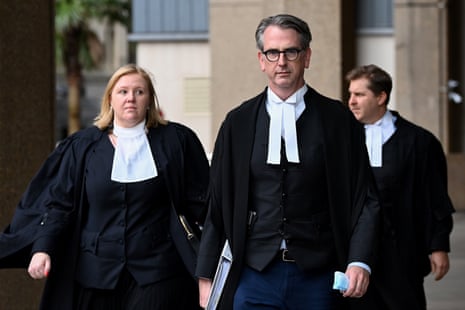 This afternoon's decision will have far-reaching impact which will extend beyond the walls of the federal court.
My colleague Ben Doherty reports this morning that it could have lasting consequences for media outlets' appetite for investigative journalism in Australia.
He writes:
For the newspapers, beyond a calamitous financial impact, a loss could be expected to seriously dampen their enthusiasm – and the Australian media's more generally – for critical, public interest investigations.

Should Roberts-Smith win, his vindication will, in many eyes, restore his former standing as a decorated veteran venerated for his gallantry in battle: a contemporary embodiment of Australia's Anzac legend.
Just an addendum to that last post.
Guardian Australia has independently confirmed that the government will seek to delay the release of the full judgment until Monday to screen for sensitive national security information.
But it is understood there will not be any delay to the court delivering a summary of the judgment. That will still be read in court at 2.15pm today.
Commonwealth intervenes to delay release of full judgment
The commonwealth is reportedly seeking to intervene to ask that Justice Anthony Besanko delay publishing his full written reasons in the case until 2pm on Monday at the latest, so that they can be screened for any inadvertent disclosures of sensitive information.
The Sydney Morning Herald reports that the commonwealth will ask Besanko to delay releasing his written judgment.
Besanko was planning to read out a shorter summary of his reasons at 2.15pm. It is currently unclear whether the commonwealth's attempted intervention would also delay the release of a summary of the case.
Besanko is expected to consider the request after 2.15pm.
While we wait for the judgment of Justice Anthony Besanko, let's recap what this case is all about.
At its heart, the case is about whether three newspapers – the Sydney Morning Herald, the Age and the Canberra Times – defamed Ben Roberts-Smith in a series of articles published in 2018.
Roberts-Smith sued the papers in the federal court alleging the articles made 14 defamatory imputations against him.
Those defamatory imputations include that he "murdered an unarmed and defenceless Afghan civilian, by kicking him off a cliff and procuring the soldiers under his command to shoot him" and "committed murder by machine gunning a man with a prosthetic leg".
The newspapers defended the case at trial. They relied on a truth defence, meaning they were obliged to prove the truth of the defamatory imputations in their articles.
The trial, which took 110 days, ended in July last year. Justice Besanko has been deliberating on his judgment in the time since, and will deliver it today at 2.15pm.
My colleague Ben Doherty has prepared this useful explainer of the case here:
Hello and welcome to our live coverage of the federal court's verdict in the blockbuster defamation case brought by Ben Roberts-Smith.
The court will soon decide whether Australia's most decorated living soldier was defamed by a series of newspaper articles accusing him of murdering unarmed civilians while serving in Afghanistan.
The trial has been one of the most dramatic and costly defamation cases in memory.
We are expecting a judgment to be handed down at 2.15pm in the federal court in Sydney, delivered by Justice Anthony Besanko.
Stick with us – we'll bring you all the developments as they happen.