To be an artist in the Lagos of my youth, you had to be multi-disciplinary. Under this democratic artistic spirit, I learned to paint. I did it secretly. At the same time, I was learning to write. Then one day, when it rained, I decided to find out what I wanted to do with my life. It was between art and literature. I put it to the test. I drew what was on the mantlepiece. Then I wrote a poem about the rain. The poem came easily, but I had to work for the drawing. I took the path of literature. Then, about seven years ago, I began painting again.
By then I had already begun collaborating with Rosemary Clunie, the Scottish painter and my long-time friend. In five years, I wrote 25 stories from inside her paintings. The paintings and stories were brought together into a book called The Magic Lamp. We decided to take our collaboration further. It is rare to find someone with whom one can truly collaborate. We began in earnest in 2017. We painted canvases together. She is a wonderful colourist. I would add marks, symbols, abstract shapes, and texts. Sometimes I contributed Nsibidis, the second oldest alphabet system in Africa after hieroglyphics.
Often I saw myself as the disrupter of the paintings. Rosemary, a pure painter, was at first troubled by my unruly contributions. What worked for us was not her pure paintings but her collages. They were open, abstract canvases into which we could bring our complications. The work became increasingly organic. Nothing was arbitrary. Yet everything had to feel spontaneous. It was important that the words were handwritten. We wanted the fragrance of the authentic personality.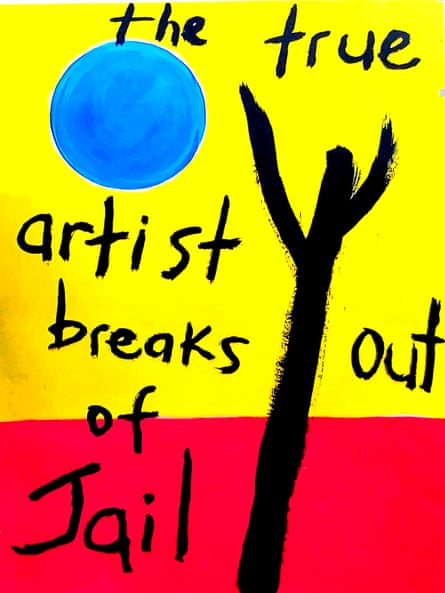 Rosemary is a remarkable artist for being open to such a collaboration. It was only possible because of a long history of friendship and mutual respect. For a long time in the history of art, words and images have been deployed to address the aesthetic sense and the conceptual hunger. It is there in Egyptian art, which is an art of image and invocation. Hieroglyphs were a sacred use of image in word-building. Each character of that ancient language was an image, an idea, and the location of a power. This trinity has not left us. Whether it is the early phases of cubism, the verbal delirium of Basquiat, or in the luminous austerity of Jenny Holzer, the word has always had great implications for art.
In our collaboration, words take on a different weight. This is words as picture-making, as abstractions. They are not to be read as literature, as poetry. They are to be read purely in the weight of their visual value and field. We began simply, from wit paintings (a term we cooked up for works that have linguistic wit at their centre) to one-word paintings. We chose 12 iconic words in the history of our culture and made them the basis of a visual and verbal orchestra. Then we graduated to the large, wall-sized paintings, 7ft by 10ft. It was here that I think our voice was liberated. We worked from a studio we shared in Hackney Wick, London.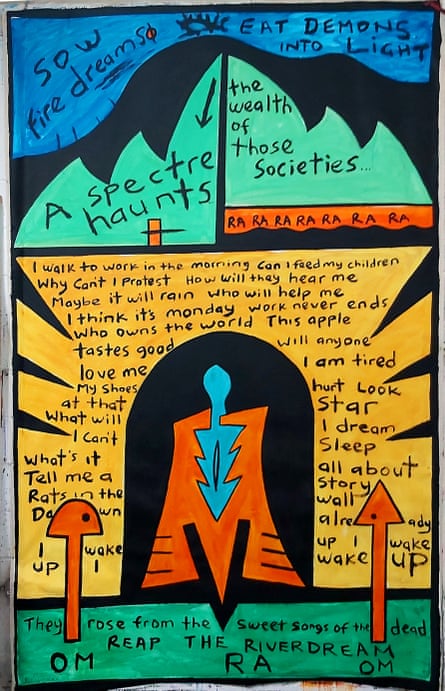 Can a poet and a painter really work together on paintings that have an authentic sense of unity? Could these two great rivers of human creativity merge their potent energies to renew the many questions we ask about life and art? These paintings offer journeys into the human spirit in our times, using the two-dimensional surface to spring existential and immortal yearnings. Visual irony, meta-narratives and broken rhythms are deployed. Their subjects range from war, to climate change, to buried screams, to the wounds and wonders of the psyche breathing the air of our world.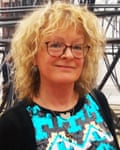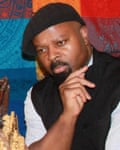 Many of the one-word paintings come with sculptural obstructions. These are objects that stand before the painting, complicating your response. Over the years, many people witnessed their evolution. I took a large one-word canvas to Jay Joplin's White Cube. It had the word "MAGIC" written on it, with a trellising of images and phrases in the background. Jay was installing an exhibition at the time. The canvas held its own among the assembled works. It was then I intuited that our experiment might stand up to proper scrutiny. Ossian Ward of the Lisson Gallery was the most recent person to register appreciation.
By then, the body of work demanded sharing with a wider world. Our seven-year odyssey is about to become an exhibition called Firedreams. Twenty works, of varied sizes, opens at Bomb Factory in London this month. The paintings are a kaleidoscope of colliding meanings and possibilities, with a diversity of cultural references. It is a polyphonic art that proposes new water for our increasingly arid times.
Firedreams is at Bomb Factory, London, from 30 March to 10 April